WSG in the press
This website
THE TIMES ONLINE, January 2007
"News, views, resort guides, events features — all a boarder's needs covered" - Times top 130 best travel website
THE TIMES ONLINE, APRIL 26th 2006
The World Snowboard Guide was the only snowboard website to be amongst the Times top 100 travel websites, and one of only 4 that covered winter sports.
"News, views, resort guides, events features — all a boarder's needs covered."
» View the top 100 article online
» View active category page
WSG 11th edition
Piste Magazine, December 2008
"Quite simply the best and most up to date snowboard guide
money can buy, happy holidaying!"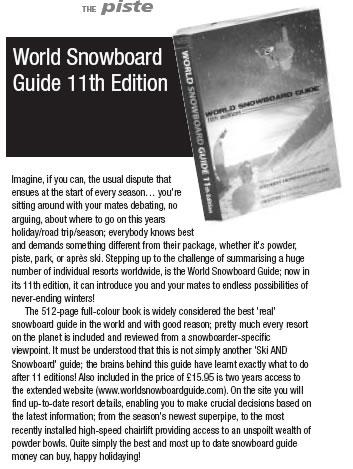 Adventure Travel Magazine, February 2007
Transworld Snowboard Magazine, Feb 2007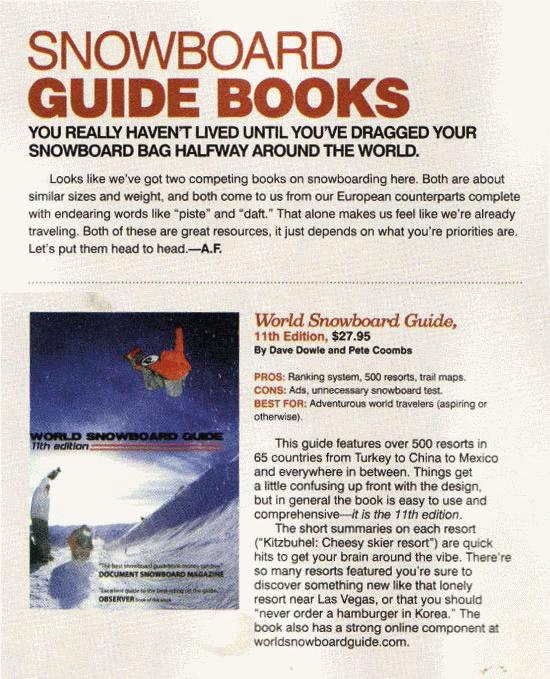 Myfreesport magazine
"top quality guide, absolutely brimming with information that will inform, amuse and inspire any snowboarder (or skier for that matter.)"
Review written in Norwegian, but Jean assures us he loves it.
WSG 2006 book
Document Snowboard Magazine, January 2006
"The original snowboard-specific guidebook remains the best of the bunch, with resort news, views and travel tips from a 100% snowboard perspective – you wouldn't ask a skier the best place to ride a mountain, so why let one help you choose where to go in the first place? More than 500 pages of information written for snowboarders, by snowboarders and the best snowboard guidebook money can buy"
SKI & BOARD MAGAZINE
"Beginner or expert snowboarder, if you're planning a trip of any kind the WSG should not be ignored", November 2005
WSG 2005 book
Sunday Observer
Book of the week, 14th November
DCMT Snowboard
December 2004 Issue
"With another season looming it's a relief to have the ninth edition of the WORLD SNOWBOARD GUIDE arrive on our desks. WSG has a well earned reputation for a no-nonsense evaluation of the best - and worst - resorts worldwide. "
Time Out
17th November 2004
Previous editions
"You do not need to be a single-plank convert to find the World Snowboard Guide a helpful source of insider information about the resorts worldwide & the prose remains refreshingly free of "rad" jargon and critical enough to put the soft boot in when merited"
Sunday Times, 26th October 2003

"By far the best guide to the slopes on the market."
FHM

"If you want to travel the world in search of freshies, the World Snowboard Guide will help you on your way"
TRANSWORLD SNOWBOARD MAGAZINE

"The WSG is a powerful resource that every rider should own."
SNOWBOARDER MAGAZINE

"The perfect snowboard travel companion"
Onboard Snowboard Magazine

"WSG is the travelling bible, don't leave home without it."
Snowboard Canada