World Snowboard Guide 11th Edition
World Snowboard Guide 11th edition
It's been a long journey, with many miles of pistes descended, thousands of miles of motorways and dirt tracks driven, with new contributions from many different nationalities, from many different continents, hours on computers, and not to mention the litres of beer drunk, but we've got there. The 11th edition of the World Snowboard Guide covers more countries and more resorts than ever before, having been fully redesigned and printed in full colour. It's stuffed full of reviews, articles, and informative tips.
Take a look at some of the reviews of the new book on our WSG in the press page.
You can buy the new edition right now from our online store priced £15.95, alternatively its is available in the UK from Waterstones, Borders, Snow & Rock, Amazon and many high-street and internet shops. In the US you will find it in many Barnes & Noble, Borders and many other shops.
This is the first edition without a year in the title and we'll now be releasing a new edition of the guide every other year.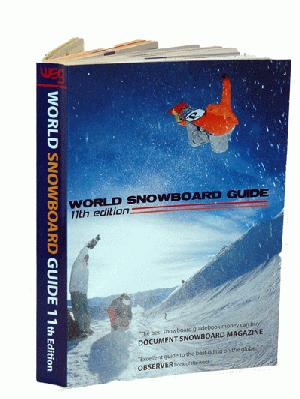 Covers the major destinations: Austria, France, Italy, Switzerland, USA, Canada etc
Covers less well known destinations: Bulgaria, Spain, New Zealand, Australia, Poland, Chile, Argentina, Norway, Sweden etc
Country & State maps showing resort locations
Resort reviews cover freeriding, terrain parks & pipes, pistes and suitability for beginners. The town section covers where to stay, good drinking spots and details on how to get there, and there's all the statistics you'll ever need including any new season resort improvements.
Summer glacier & camps guide
Heli and CAT boarding, Backcountry section, Snowboard test and many more articles
2 years free access to the extended website
"The best snowboard guidebook money can buy"
Document Snowboard Magazine
"Excellent guide to the best riding on the globe."
OBSERVER Book of the week
"Independently written and crammed with practical advice."
TIMEOUT
"By far the best guide to the slopes on the market. It's refreshing to read a truly authentic, well-designed guide written by snowboarders for snowboarders."
FHM
"If you want to travel the globe in search of freshies, World Snowboard Guide will help you on your way"
TRANSWORLD SNOWBOARD MAGAZINE
"The perfect snowboard travel companion"
ONBOARD SNOWBOARD