Competition winners
Sept 09 - Metro Ticket winners
Congratulations to Dimitar, Reuben, Jon, Claire and Paul who have all won a pair of tickets to the Metro Ski & Snowboard Show.
Congratulations for Andrew F who has won the weeks accommodation for 2
We asked you, Lenzerheide is located in which Swiss Kanton??
Ticino - WRONG

Zurich-

WRONG

Graubuenden -

CORRECT
As the snow starts to melt, thoughts turn to summer and mountainbiking, paragliding, lakeside chilling, barbeques and being warm again :-)

Snowmotions, our partners in Switzerland, are offering a great prize of 1 weeks accommodation at their LODGE in Churwalden - Lenzerheide for 2 people !!
Competition closed on 14th June
Cold Prey has just been released in the US, and the sequel was released in Norway at the end of last year. To celebrate the release of the film on DVD, those nice promotion people have given us a copy to give away.
We asked you, What is the original language of the film?
Bork Bork - WRONG (Swedish chef in the muppets in case you're wondering)

German -

WRONG

Norwegian -

CORRECT
Congratulations to Kelly Gatens, Lee Edwards, Rob Richardson and Jessica Barker who each won a copy of the DVD.
To celebrate the launch of Snowmotions first chalet in Switzerland, we are giving away 5 nights accomodation and airport transfers for 2 people - a prize valued at over £400
Draw made on 2nd Dec 2008
We asked you "What is the name of the Back Coutry Tour between the resorts of Lenzerheide & Arosa ?"
Diavolezza Tour -

WRONG

The Safari Tour -

CORRECT

The Bond Run -

WRONG
Congratulations to Ian Williams who has won.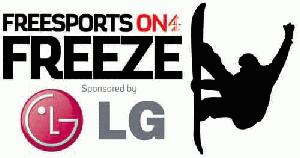 We've had 2 pairs of 4-day passes for the London Freeze event which is from the 23rd-26th October at Londons Battersea Power Station. Featuring an international Big Air competition and the Battle of the Brits, some 2-plank action and a whole host of top bands including The Enemy, Cypress Hill & the Automatic
Draw made on Sunday 19th Oct 2008
We asked you "The main snowboarding Big Air event is an official World Cup competition, but for what organisation?"
FIS -

CORRECT

TTR -

WRONG

CH4 -

WRONG
Congratulations to Taddeo B and Lisa T, who have both won a pair of tickets.
We had 5 pairs of weekday tickets for the show at Olympia in London on the 22nd-26th October. Congratulations to Martin, Andrew, Jeni, Amy & Simon who each won a pair of tickets
Draw made on Sunday 12th October 08