articles

Roving Repoter

Liz
BST 2007 - First stop Chatham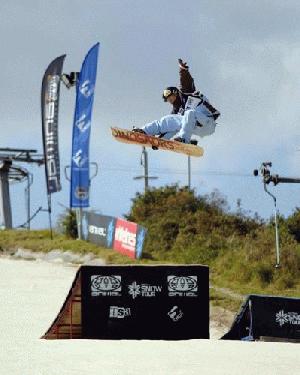 Aah, England in the summertime. It's all about playing Frisbee in the park, rain-soaked BBQs and apparently, snowboarding events. Or so I discovered, as I headed for Kent to see the British Snow Tour kick off with Animal's Big Air and Slopestyle championships. The competition was fierce – some of the UK's best riders had travelled to Chatham's Ski & Snowboard Centre, which, as the signs proclaimed, offers 'so much more than you might think'.

I wasn't sure what to think. Despite the taxi driver's grim forecast, the sun was still shining, the hills were rolling (there wasn't a mountain in sight) and there was a distinct lack of snow on ground.

This was my introduction to British snowboarding.

It was early in the afternoon when I arrived, and before me stretched a long slope with a variety of kickers, rails (regular and rainbow), boxes and a gas pipe. The course wasn't huge, but the variety of hits was impressive. The ground was white and relatively soft, which was a nice touch as I'd expected green Astroturf, or something more akin to a plastic washing-up brush. But according to the riders I spoke to, Permasnow, as used at Chatham, is their artificial surface of choice. It isn't too tough and gives a nice sliding (as opposed to turning) action. It's not so nice when they fall, and the amount of grazed, bleeding skin helped me to understand why the riders were wearing jackets and gloves, even in the summer heat.
A DJ was spinning as the MC announcing the names of the finalists. A BBQ sizzled in the corner, near tents featuring the latest gear from K2, Salomon and Ride. Off to one side, crowds of local kids were taking advantage of the free lessons on offer, thanks to the friendly folks at Animal Lesson Academy. Many had never been on a board before, and I was surprised to see how much they seemed to be enjoying themselves. (I could only imagine what it would be like when they finally tried it on snow!) The school initiative – whereby chosen riders visit local schools and encourage kids to try snowboarding – is a wicked idea, especially as past participants are now instructing and even competing in the tour events.

This year's competitors came from all over the UK, and ranged in age from 10-year-old Katie Ormerod (who was crowned the youngest Big Air winner ever) to 'Masters' like Phil Richardson, who was born in the '60s, back when snowboarding all began. I was told to look out for some of the stronger riders like the Shackletons, the Nicholls kids, and the local crew consisting of Cody Hierons, Callum Wilkin and Sunny Elmore. They didn't disappoint. In fact, nobody did. They were pulling off tricks many can't do on snow – I saw back flips, backside 540 double grabs, 50-50 nose slides, backside 720s, hell, little Sparrow Knox slid the entire way along the 60 ft box rail on his bottom, almost wearing a hole into his mum's pants. As the MC suggested, the finals were nothing but 'technically correct jib tomfoolery'.

The competition was fierce – with riders eligible to receive TTR points toward their world ranking – but the overall atmosphere was laidback and incredibly supportive. Riders cheered each other along, and seemed genuinely happy when someone threw down a new trick (like when 14-year-old Jamie Nicholls pulled off the only 720 of the day).
Parents, friends, families, locals and dogs were all in attendance, although I was surprised that more snowboarders weren't there to watch and support the local British scene. It was only the first event of the season, so hopefully more will check out the coming events, which are happening weekly throughout the UK until the Metro Show in October.


So that was it, my first taste of snowboarding in the UK. No snow, but plenty of skill and even more enthusiasm. The riders were happy, the crowd was impressed, and it didn't even rain.