articles

Roving Repoter

Liz
BST 2007 - Norfolk
Sparrow Knox Rocks.
Or so I discovered on Sunday, after yet another day of British dryslope snowboarding. This week was in Norwich, supposedly only two hours drive from central London. But with a national cycling event, two traffic jams and a military show closing roads throughout the north, our leisurely Sunday drive became a 7.5 hour return trip. It was worth it, though, to make the second stop of the British tour - the Trespass Snowboard Cross and Big Air Jam.
Unlike the single dry slope in Kent, the Norfolk Ski Club hosts three long(ish) runs, one of which was being utilised by the Trespass Snowboard Academy. It was good to hear the lessons were almost fully booked out, as local Norwich youths tried a new alpine sport. The main slope had earlier been used for the boardercross event, yet by the time we had arrived; it was all about qualifying for the Big Air Jam.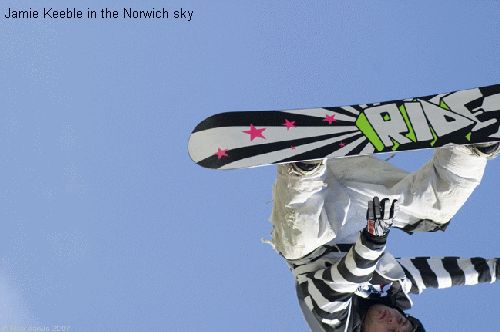 As the sprinklers battled the Autumn sun, over twenty entrants laid down a variety of tricks and tried to keep complaints about the turf to a minimum. The water was evaporating almost immediately, leaving the surface slow and rough. Not exactly ideal conditions, but it didn't stop the barrage of 360s, back 5s and front flips. By the finals, Jamie Keeble stylishly pulled out a 720 front cork, finishing his final run with a frontside rodeo 720. It was his first attempt and it was sweet. The judges agreed, awarding him second place overall. Thomas Percival proved the Masters can still rock it with a corked backside 720, along with a succession of smooth 360s and big air grabs – all while hiding a neck brace beneath a fur collar.
Looking a little more nervous and with headphones hooked firmly in his ears, Cody Hierons looked unhappy after heavily landing hs backside 540, only to grab second place in his division with a smooth backside 720. The afternoon's jam session format, whereby eight riders took turns for just half an hour, seemed hard on the entrants – many of whom had been riding since early morning in the boardercross.
One rider unfazed by the time and pressure was Sparrow Knox. He's easygoing, effervescent and his moves were effortless. After proving the ease with which he can pull multiple switch backside 540s, he landed a 900 on his final run to take first place overall.
He's thirteen years old.
So why aren't more people coming to check him out? Not just him, but the whole series of events. These competitors are the future of British snowboarding, and they're travelling all over the country to earn some cred, and maybe, (in Sparrow's case), a bit of cash as well.
If only more people knew that it's not just Knox who rocks.