articles

Roving Repoter

Liz
BST 2007 - Milton Keynes
Rising above the Milton Keynes cityscape (and only a 45-min train ride from central London) is the X-Scape snowdome. The train says 'Glasgow' and there's a distinctly suburban vibe about the place, but hell, it's snowboarding on snow, and it's the first time I've seen it in months.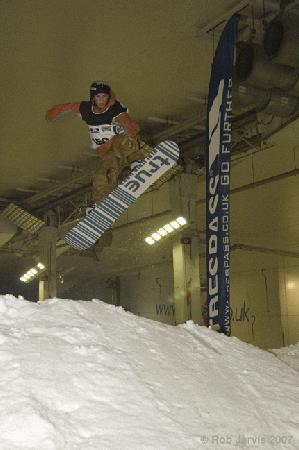 The relatively-long slope is divided into three runs – beginners, boardercross and slopestyle – and wasn't nearly as icy as I'd expected. Some of the riders said it was wicked to be riding on snow, instead of their usual dryslope. It seemed kinda strange that they'd usually choose to ride the Snotex, until I realized a two-hour session in the dome will set you back £30 (and that's on top of the £18 return train ticket). That's more than a day pass in most resorts ¬– outdoors, on real snow, where there's more than 170m of slope.
(Fortunately SnoZone is keen on supporting local talent, and now sponsor many of the local riders, including Will Smith, Katie Ormerod and the Shackletons. This support doesn't extend to creating an ideal environment for spectators, as the afternoon's finals were almost drowned out by the sounds of England playing Croatia on the many TVs. But then again, we were in the middle of a shopping centre in a purpose-built city.)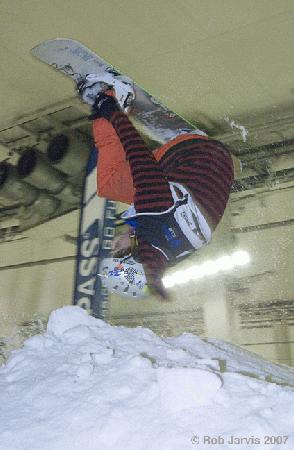 After a morning of boardercross dominated by Milton Keynes locals, Jules Chappell and Gary Walsh, a selection of rails (including a nice C-rail down below), a gas pipe, tabletop/box and a kicker or two awaited for the slopestyle jam. This was the reason why we (and many of the riders) had come. After watching the locals progress through the competitions in the earlier weeks, I was looking forward to seeing what they could do on snow.
It was all a bit disappointing. The tricks were technical and occasionally quite stylish, but it wasn't much more than you see at a normal snowpark. Dean Horsfield took first place after an impressive effort on the rails, including a frontside noseslide 270 out, and a 270 on, switch up, 270 out. It was good, clean and not too flashy. We heard there was a Burton ScrapMetal jam scheduled for later that night in Tamworth, where all kinds of scrap metal was being used to create a railpark/slopestyle course. I'm guessing some of the competitors were saving their skills/energy to hit up the junk yard…or else maybe they just weren't that into it?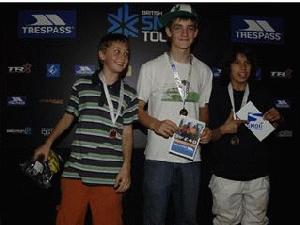 Overall, it was once again the younger kids who proved most interesting. Jamie Nicholls was noticeably absent – apparently in Europe doing a Salomon shoot. Luckily, 14-year-old Gareth Andrews was still in town. He twice attempted a backflip off the big kicker, with his second landing so close to perfection it hurt (Probably him more than me).
Maybe next week's Metro Show – with a quarterpipe and rail jam – will be a little more exciting.