articles

Summer snowboarding

Austria
Kaunertal Summer Guide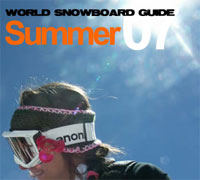 Kaunertal is a small year-round resort located on the Austria/Italy/Switzerland border in the next valley to the glacier resort of Pitzal. Just outside the village of Feichten you'll buy your lift passes at the toll-road entrance, then it's a 40min drive to the resort which is situated at the end of the valley, high above the Gepatsch-Stausee reservoir and is a journey well worth making, especially when the other resorts have closed or have yet to open.

From May onwards the chairlift is usually turned off and things centre even more on the excellent terrain park, the resort is open from September until mid-July.

This place has one of the best terrain parks in Europe, and it's the mortals as well as the pro's who get treated royally. Alex Fischer designs the park and it features rails, kickers and now 2 halfpipes. Serviced by the Norderjoch-1 t-bar, the top section features a number of advanced rails – straight, kinked, rainbow boxes and rails, and sometimes a couple of intermediate/advanced table-tops. Then it splits into 3 parallel sections.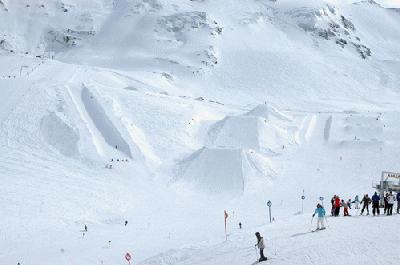 The beginners/intermediate section features 2 lines of 3 table-tops, followed by a box. The usually well-shaped halfpipe sits between that, and the pro-park, which has a line of 2 monster table-tops. In April 2007 they built a massive superpipe, positioned perfectly between the t-bar and the existing park. 120m long, 5m high walls and built on a great gradient making it nice and fast.

The resort run freestyle camps from mid April to end May, www.springclassics.at