A Family Snowboard Trip
SNOWBOARD NOT SO BORED
We introduced our kids to the idea of a winter sport holiday over Christmas four years ago and what a great move it was. You can ignore all of the " buy me "ads for stuff you don't need or want and think about fresh air fun instead of a new sofa.

In the past we have always gone for the travel company organised chalet or hotel and have never had a bad experience. However when I got an Easy Jet email saying they had a new winter route to Innsbruck I bought four return tickets over Christmas. Now all we needed was a resort, a hotel, a transfer. Oh and lift passes and equipment hire for my wife and daughter, and insurance and lessons. Easy.

Well actually it was.

First we had to decide which resort. Now this had to be a compromise between being nice for the skiing girls and ok for Charlie and me. But after last winter, even more importantly it had to be pretty snow sure. So out pops the WSG and into its cover we dive. As I wanted to see a new resort the usual glacier choices were all out. So we ended up choosing Hochgurgl. Now it has to be said WSG only gives it 6 out of 10 for snowboarders and describes it being suitable for wrinklies But if you are after safe open slopes for your kids then this is the place.

As it turned out Charlie fell and dislocated his wrist so we sampled something else; the local doctor. How different from the UK. Less than 10 minutes wait, x-rays immediately after an initial assessment and listening carefully to what Charlie had to say about the fall, a full explanation of the problem and treatment. In under 40 minutes we were out with Charlie's wrist in a cast. OK the 450 euro bill speaks more about the Brietling watch the doc was wearing than anything but you know you have been looked after. Now we will find out how good our DOGTAG insurance policy is.

Hotel was also easy. You'll be amazed how good the regional tourist sites are and the fast search results for very specific needs can be realised. As this has to be a holiday for my wife Sarah the standard of hotel has to be pretty good. The Sporthotel Ideal in Hochgurghl looked just the one, with a pool, spa and nice rooms. And this enlightened hotel unlike so many in Austria will take a credit card. Hmm, well so it seemed. The room was not the one we thought it was going to be but at 9pm at night you just give in. When we checked out they asked for cash but put up less than the usual fight and did take a card. Would I recommend it? No but it served the purpose. Note to Austrian hoteliers – we DO have a choice, we DO spend a lot of cash, we DO like to be treated like humans and customers, if you don't want kids under 14 in the sauna put a sign up saying so, if you say you take credit cards DO so without making us feel we are cheating you, supply us the room you sell us and please smile every now and then. That said the staff were great, it was, as usual the owners. Bit like going to Wales, you know what I mean, they are happy to take your money but seem resentful that you are in their country.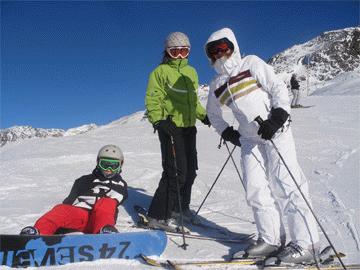 The next part was totally new for me. Arranging the airport transfer. Again the web came through. By typing Innsbruck Airport transfer into Google I found some price comparison sites. But ignore them. I also found 3 or 4 local taxi company sites, all with English quote request forms and the same day I had arranged with Ulli that he would collect us for 100 euros less than the best price comparison site could do. They were where they said they would be, when they said they would be and delivered us to the hotel and airport without drama and bang on time. Actually the best value of the trip.

So, was it all worth it? Difficult to say. We did not save any money but that was not the object. What we did get was a holiday tailored to what we wanted and that was the objective. I should know well enough about Austrian hotels and you have to go 5 star to get anything like a UK 3 starBut everything else was just fine.

And Obergurghl / Hochgurgal? Well like WSG says more suitable for gentle skiing with wide open pistes and limited off piste unless you get some real snow. The resort was un-crowded, no queues at all, probably because you have to drive past Solden to get there. The lift system is very good, modern and quick. Hotels are limited in Hochgurghl and so too are rental options. Nightlife? Well go there on a family holiday and you won't miss it. I reckon WSG have it right 6 out of 10 but for a mixed ski snowboard family destination I'd give it 8.

Ed from West Beach.

Ed stayed at the Sporthotel Ideal in Hochgurgl and flew with EasyJet. Big Thanks to Georg Amprosi at oetztal.com for his assistance