Ischgl in the summer
I always feel sad when I drive down the valley for the last time each season. The thought of not seeing the alps for a long hot summer just upsets me a little. I've been back off season many times and have always enjoyed a little snowboarding on a glacier, but it's just not the same as licking down a big face of powder snow and in fact just added to my lament of the summer. So when I was asked to join a press trip to Ischgl in the summer without a snowboard in sight I thought why not.
We arrived into resort and were checked into the ever so nice 4* Hotel Madlein in the centre of town. The Madlein is design orientated place with cow hides, black and white pictures and state of the art slate and glass rooms, it really is very cool. After jumping on the bed and admiring the view I joined the other British journalists on the piss in the hotel bar. We were part of a European wide press trip and were told of our options for the next day, which included a hike, via ferrata and mountain biking. I chose Mountain Biking and having had a few beers agreed to join a load of Dutch and Germans in the advance group, one other Brit agreed to join me. We then ate a huge meal and went clubbing till the wee small hours.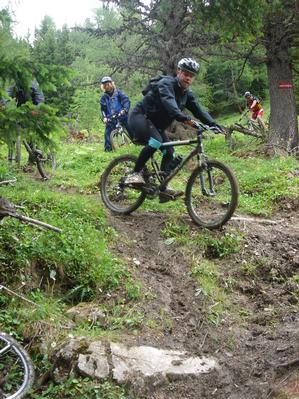 The phone woke me. "Pete we're leaving soon have you had breakfast?"
We hadn't been fasting but I broke it anyway with a coffee and a cheese roll. I then ran to the hire shop to catch up with the others. On arrival I realised I was the odd one, yes I've always been a little strange but not this time. Everyone, even the other Brit had a little, everyone was in lycra. The Dutch and Germans were head to toe in multi coloured lycra. I grabbed a bike and ask this lad if he'd done proper mountain biking before.
"Yes we're all mountain bike journalist, I work for the Dutch Mens Health Magazine."
I live in London and have sent many an afternoon urban mountain biking in the docklands and the city so stairs, small hits and crowded street are no problem, but I'd never sat at the top of a snow patched rock strewn red run at 2500 meters with a bunch of semi pros. They set off and I followed, I was doing ok until I tried to slow down and that's when I left the bike and flew over the handle bars just missing a load of cow shit. I landed on my feet and was fine; at least snowboarding had taught me how to fall well. Ceri the other Brit on the other hand hadn't done so well and was already bleeding a little from his knees but he said it's nothing. It later turned out he was in the final selection process for Last Man Standing and was hard as nails.
I slowly got the hang of it and after a few more falls and a close encounter with a bull I was almost keeping up. Ceri on the other hand kept falling and kept bleeding. We reached a single track road and made our way uphill to our lunch spot with Ceri at last taking the lead and leaving the pros behind as he powered uphill with ease, fit sod that he is. A refreshing beer and a full stomach saw us finish our decent back into town where I in true urban style rode down a flight of steps towards a glass automatic door which Ceri was holding keeping open for me. Now this had impressed our European brothers and one of them in particularly nice lycra gave it a go. Now I'm not sure if I moved on purpose to cause the door to shut on him, but that's what happened and our Lycra wearing friend didn't look quit so cool as he had on the hillside.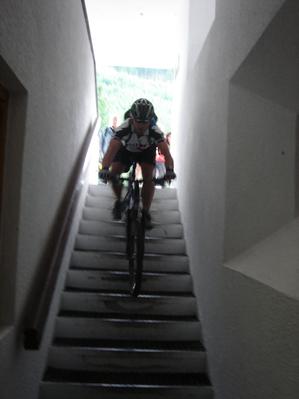 We retired to the bar just in time to join the late afternoon trip to a new Via Feratta route. It was great you clip onto a wire and then rock climb in the knowledge that the rope won't brake or the protection won't give way. It was amazing, really exposed with little risk, a great way to get the hart pumping and the blood racing.
We finished the night with a very strange fire festival. Where kerrang followers shot flames in the air and then set fire to a sort of wicker man thing. Most strange we all agreed as we headed off for yet more beer.
So I guess I learnt two things on my summer trip to Ischgl. One was you don't need a snowboard or the winter to get a buzz from the mountains and the second was don't dis the lycra, well not on the mountain side anyway.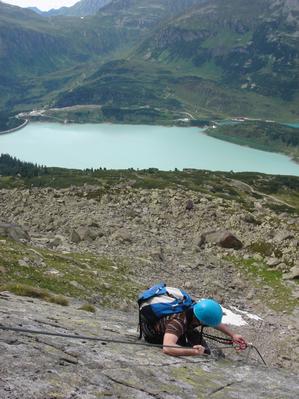 Our Hotel www.madlein.ischgl.com
www.worldsnowboardguide.com/resorts/austria/ischgl/index.cfm
www.ischgl.com