Quiksilver Das Rail - Munich
5 February 07
15 boarders taking it out on a 11m rail in the centre of Munich
Quiksilver Das Rail Invitational presented by ispo
Quiksilver and ispo bring authentic urban snowboarding to Munich city centre on 5 February 2007
Fifteen of the worlds best snowboarders guarantee sporting highlights in a unique ambience
The boardsports community of ispo is going down new roads: for the coming ispo winter 07, the obligatory snowboard contest is moving from the atrium of the trade fair centre to downtown Munich. The Quiksilver Das Rail Invitational presented by ispo features fifteen of the worlds best rail snowboarders on the unqiue location of Haus der Kunst to
transform this megalomanic terrace into an arena for a unique street rail contest on the evening of Monday, 5th of February 2007.
Eleven metres of steel rail and twenty-seven steps entice the riders into spectacular tricks in a pulsating atmosphere: with the audience positioned in a circle around the rail, the riders are roared on to produce top performances. In a box line right next to the rail, the focus is on more technical tricks that demonstrate the full range of snowboarding at todays level.
Providing the action and excitement are Frederik Austbo, Erik Leines, Aaron Bittner, Simon Chamberlain, Chris Kröll and Fredu Sirvio along with Joni Malmi, Dimitri Fesenko, Stevie Bell, Hannes Metzler, Louis Vito, Alex Schmalz, Marc Frank Montoya and other international riders.
But in this contest too, there can only be one winner of the EUR 10,000,- prize money. Who that is, will be decided in a grand finale with the best three riders. But those who havent won can celebrate all the same at the after-show party
planned for straight after the rail action with Marc Frank Montoya probably the most famous DJ among the snowboard pros spinning the discs in person.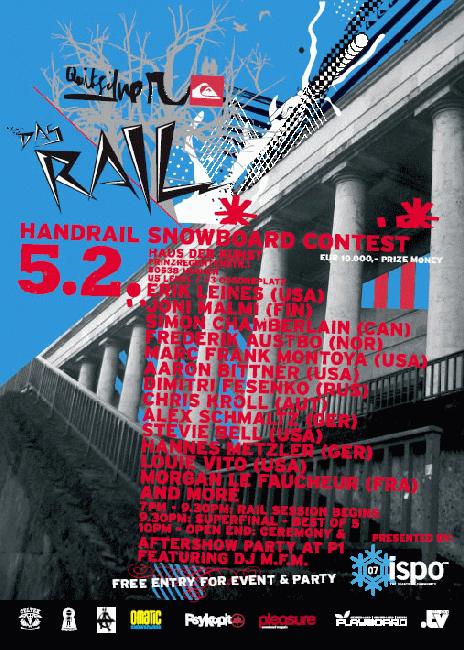 Related Pages
Advertisement