O'Neil Evolution, Davos
1-7 January 07, Davos, Switzerland
Some top names are competing in this 6*TTR Event in Davos, Switzerland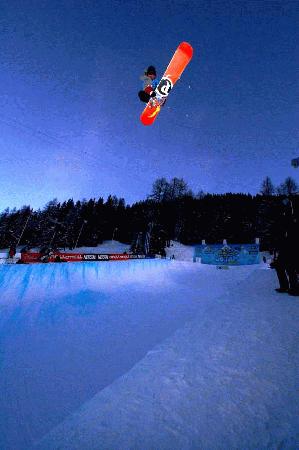 Riders confirming their attendance ahead of the cut-off date already include none other than 7 of last years top 10 ranked TTR riders including 2005/06 Champion Mathieu Crepel and Finnish foursome Risto Mattila, Anti Autti, Janne Korpi and Olympic bronze medalist Markku Koski. In addition, transition-master Nicolas Müller and former Olympic Champion and ONeill team rider Gian Simmen are also confirmed. Last years crème de la crème from the TTR World Snowboard Tour will also be joined by the 2 current ratings leaders after the X-Trail Jam in Tokyo, Japan. Other riders fighting it out in qualification will be local lads Christian Haller and Markus Keller as well as super-scanners Fredrik Evensen and Thomas Harstad. Meanwhile, confirmed wildcard entrants include snowboarding legend Terje Haakonsen and Norwegian headbanger Eirik Haugo. On the womens side of things, confirmed riders include current TTR Champion Cheryl Maas, US rider Jamie Anderson and Frances emerging talent Caroline Beliard. The first womens wildcard has been allocated to Norways Olympic bronze medalist Kjersti Buaas.

The competition will set the stage for these formidable riders to strap in and compete in two official TTR contests. Jam session formats allowing maximum room for expression, creativity and freedom will create an awesome arena for the worlds best to showcase their riding ability and claim their part of the spoils.

Shaped by Claes Hogstrom, the gigantic Quarterpipe will be built on a 20mx10mx8m scaffolding monster with lateral landing zones for enhanced safety, and will be incorporated into the new TTR Quarterpipe Project led by Terje Haakonsen himself. With qualification spots to The Arctic Challenge event up for grabs, you can count on the riders to throw down their heaviest tricks. Lying at the foot of the Jakobshorn, the world-famous Davos Superpipe including special features will see competitors boosting out of the U-tube with high altitude technical tricks. Meanwhile, a slopestyle layout, sitting outside of the TTR structure, will feature two of the biggest hits of the winter and play host to intoxicating expression sessions.

Related Pages
Mens Big-Air Leaderboard
1. Corning, Chris (763.53)
2. Thorgren, Sven (677.76)
3. Gerard, Redmond (605.05)
4. Parrot, Max (596.99)
5. Mack, Kyle (588.06)
Mens Halfpipe Leaderboard
1. Hirano, Ayumu (935.30)
2. White, Shaun (912.63)
3. James, Scotty (847.95)
4. Ferguson, Benjamin (825.97)
5. Totsuka, Yuto (792.05)
Mens Slopestyle Leaderboard
1. Kleveland, Marcus (908.97)
2. McMorris, Mark (876.53)
3. Thorgren, Sven (848.77)
4. Corning, Chris (807.18)
5. Gerard, Redmond (805.27)
Womens Halfpipe Leaderboard
1. Kim, Chloe (1000.00)
2. Clark, Kelly (878.70)
3. Mastro, Maddie (875.23)
4. Liu, Jiayu (834.00)
5. Gold, Arielle (794.39)
Womens Slopestyle Leaderboard
1. Anderson, Jamie (933.33)
2. O`Brien, Spencer (839.51)
3. Norendal, Silje (678.85)
4. Rukajarvi, Enni (676.14)
5. Marino, Julia (635.32)
Advertisement