Back to basics at Snow Park NZ
23 September 07, Snowpark, New Zealand
A day of fundraising, the Snow Girls Jam, board in bikinis to raise funds for the Breast Cancer Foundation
It's back to basics for competitors entered in the Freestyle for Funds event this Sunday 23 September at Snow Park NZ as they ski or board in bikinis to raise funds for the Breast Cancer Foundation.

A day for the girls, the Snow Girls Jam includes a Slopestyle competition on novice and intermediate features as well as the Bikini downhill on the ski racers track for which a bikini must be worn on some part of their body, and can be over clothing.

Five dollars for each lift pass purchased (discounted at $20) for the event will go to the New Zealand Breast Cancer Foundation, the event is an opportunity for the girls to shine in the terrain park and raise awareness for the charity. Males are welcome to enter providing a bra or bikini is worn.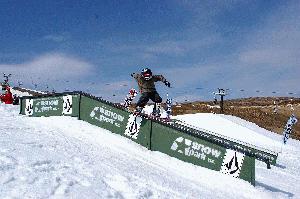 Other action on Snow Park's finale weekend starts on Saturday (22 September) with the Volcom Peanut Butter Rail Jam. The snowboarding event is free to enter, on a first come first serve basis, and boasts tons of prizes. A selection of rails will be set out to challenge the competitors. The event will be run in a Jam style format.

Everyone who enters will be rewarded for their efforts. There are two divisions: 15 and under, and 16 and over, Open and Female. Fuelling the competitors throughout the day will be a bountiful supply of peanut butter and jam sandwiches as well as a free BBQ on the deck of the Woolshed Bar and Restaurant.

Registration for the Volcom Peanut Butter Rail Jam is from 8.30am in the Woolshed. The action gets underway at 10.30 and the finals set to be staged at 2pm. Discounted lift passes will be available for all competitors.

For the Snow Girls Jam, registration is from 9am at the Retail Shop with the event getting underway at 11am.

Further Spring specials include 2-for-1 Tuesdays, buy a full day pass any Tuesday and receive another day pass for free. The V-can Sunday special requires visitors to bring an empty V drink can to the ticket office to get an adult day pass for just $25, under 18 for $15.

Snow Park NZ's is scheduled to close on Saturday 29 September. For further information, snow reports and web cams, visit www.snowparknz.com
Related Pages
Advertisement