Abominable Snow Jam at Mt.Hood
10-12 July 07, Mount Hood Meadows, USA
$140k in prizes should bring the big names out in the first stop of the new TTR World Championship tour
Burton's fourth annual Abominable Snow Jam snowboarding competition will take place from July 10-12, 2007 at High Cascade Snowboard Camp and Timberline Resort on Mt. Hood, Oregon. Featuring a quarterpipe, halfpipe and slopestyle competition, the Abominable Snow Jam brings top international riders like Ross Powers, Gretchen Bleiler, Danny Kass, Leanne Pelosi, Jussi Oksanen, Peter Line, Cheryl Maas, Eddie Wall and Wille Yli Luoma to Mt. Hood for a laid-back event in the hub of the summer snowboard scene.
Thanks to the event's sponsors, the Abominable Snow Jam will be offering over $140,000 in prizes including a Volvo C30, two 2007 Harley-Davidson XL 1200N Nightster™ motorcycles and plenty of cold hard cash.
High Cascade Snowboard Camp is hosting the quarterpipe contest on July 10 and the halfpipe competition on July 11. Legendary park and pipe builder Pat Malendoski and his Planet Snow Design crew will design both the quarterpipe and the halfpipe with help from the crew at High Cascade Snowboard Camp. On July 12, the Abominable Snow Jam wraps up with the slopestyle competition, designed by the park crew at Timberline Resort. Besides yeti and penguin sightings, riders will enjoy fun in the sun with on-snow barbeques, massage therapist treatments and parties at the local Hood hangouts.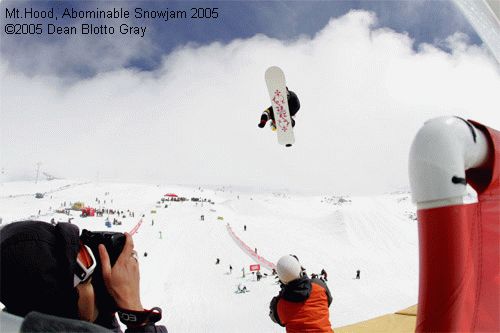 Related Pages
Mens Big-Air Leaderboard
1. Toutant, Sebastien (881.55)
2. Kleveland, Marcus (867.33)
3. Kadono, Yuki (855.21)
4. Parrot, Max (843.21)
5. McMorris, Mark (795.75)
Mens Halfpipe Leaderboard
1. Hirano, Ayumu (935.50)
2. Ladley, Matthew (822.80)
3. Aono, Ryo (775.47)
4. Gold, Max (731.96)
5. Habluetzel, David (721.34)
Mens Slopestyle Leaderboard
1. McMorris, Mark (966.67)
2. Parrot, Max (820.07)
3. Toutant, Sebastien (791.91)
4. Davis, Brandon (769.41)
5. Beauchemin, Eric (762.68)
Womens Halfpipe Leaderboard
1. Kim, Chloe (1000.00)
2. Clark, Kelly (839.43)
3. Cai, Xuetong (815.33)
4. Liu, Jiayu (804.90)
5. Gold, Arielle (782.43)
Womens Slopestyle Leaderboard
1. Anderson, Jamie (933.33)
2. Gasser, Anna (835.89)
3. O'Brien, Spencer (831.46)
4. Langland, Hailey (735.93)
5. Shorr, Karly (693.82)
Holiday Offer
For lots more offers visit IgluSki.com
Advertisement