Columbia Ride - Courchevel
11-16 March 07, Courchevel, France
After a successful first edition in March 2006 the Columbia Ride Week is back, and this time boarders are allowed
After a successful first edition in March 2006, It's time to put the Columbia Ride Week back your diary from the 11th to the 16th of March 2007.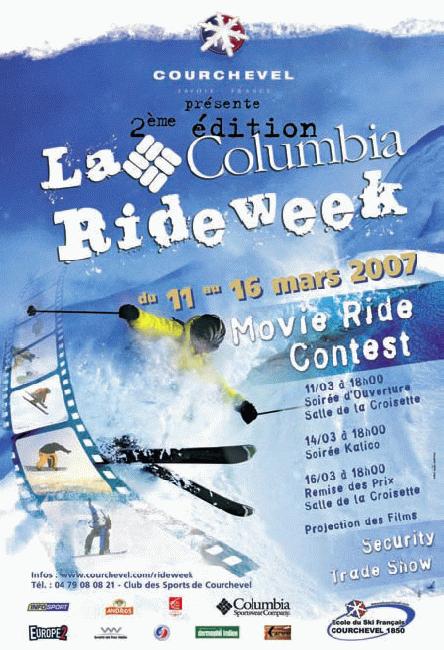 The international freeride movie competition is back!
This year, 10 teams from around the world will arrive in Courchevel to offer us a great show and succeed the winning Japanese team from The Columbia Ride Week 2006. Their movie was both original and laden with sumptuous freeride images.
Women will also be well represented too! Last year, the Swedish team headed up by Marja Persson took third place. New for this year, both snowboarders and skiers are welcome!
During the first 4 days of the rideweek, the best international freeriders will compete on the hills of Courchevel. Each team will consist of 2 riders and a cameraman. Their task will be to create a 5 minutes movie which highlights both amazing freeride images and technical performances. The 5th day will be dedicated to editing these fantastic scenes and an international jury of athletes and journalists will judge the movies.
On Friday 16 March 2007, at the end of the week, all of the movies will be presented in at a showcase and combined with a prize giving ceremony and party.
As this week will be dedicated to Freeride, there will also be workshops about security to promote freeride, security and responsibility go hand in hand.
Related Pages
Advertisement