Nissan Russian Adventure, Sochi
20-25 January 09, Krasnaya Polyana, Russia
The 2009 tour starts in the Russian resort of Sochi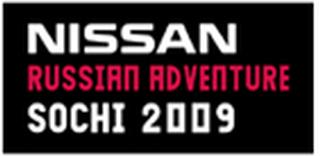 Location: Krasnaya Polyana (RUS)
Riders: 40 (15 Males: 10 (FWT08) + 4 (FQS08) + 1 (FQS09 sister event winner *) + Wild-Cards / 5 females: 2 FWT08 + 2 (FQS08) + 1 (FQS09 sister event winner *) + Wild-Cards)
Event schedule:
Monday, Jan 19th 2009 - Riders arrival
Tuesday, Jan 20th 2009 - Inspection/Opening Ceremony + Bib Draw
Wednesday, Jan 21st 2009 - 9am-12am Contest/Prize-Giving Ceremony 1 - Krasnaya
Saturday, Jan 24th 2009 - Prize-Giving Ceremony 2 - Sochi / Official Dinner + Party – Sochi

Nissan Russian Adventure will take place at the ski resort Krasnaya Polyana in the Western Caucasus. Krasnaya Polyana is the host of the alpine and nordic ski events of the 2014 Winter Olympics with Sochi as host city. Sometimes called the "Russian Courchevel", Krasnaya Polyana is the most sophisticated ski and snowboard resort in Russia, located just 45 minutes from the Black Sea, and well known as one of President Putin's favourite holiday resorts. It is also famous for its awesome heliskiing in the spectacular Caucasus mountain range.
Related Pages
Advertisement