Nissan Tram Face, Squaw Valley
27 Feb-5 Mar 09, Squaw Valley, USA
Mecca for Big Mountain riding in the USA, perched atop the Sierra Nevada, the Californian resort of Squaw Valley will host the second stop of the Freeride World Tour 2009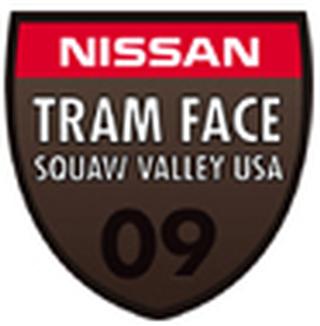 Dates: 27 FEB-05 MAR 2009
Location: Squaw Valley (USA)
Riders: 40 (15 Males: 10 (FWT08) + 4 (FQS08) + 1 (FQS09 sister event winner *) + Wild-Cards / 5 females: 2 FWT08 + 2 (FQS08) + 1 (FQS09 sister event winner *) + Wild-Cards)
Event schedule:
Thursday, Feb 26th 2009
Riders arrival
Friday, Feb 27th 2009
Inspection
Opening Ceremony + Bib Draw
Saturday, Feb 28th 2009
10am-12am Contest on Tram Face
Prize-Giving Ceremony
Official Dinner + Party

Mecca for Big Mountain skiing in the USA, perched atop the Sierra Nevada, the Californian resort of Squaw Valley will host the second stop of the Freeride World Tour 2009 on its granite-laden terrain. For the first time in history, the legendary Tram Face will be officially open for pro skiers. Closed since the resort opened in 1949, the Tram Face gave a hell of a morning to some rare skiers trying to ski Tram Face illegally in the past. The mountain is visible from the resort, so no doubt many skiers will make it to Squaw on the contest day.

The Squaw Valley Ski Resort in Olympic Valley, is one of the largest and most high-concept ski areas in the United States, and was the site of the 1960 Winter Olympics. The resort attracts 600,000 skiers a year.
Related Pages
Advertisement