Nissan Xtreme, Verbier
20-29 March 09, Verbier, Switzerland
Since its start in 1996 the 'Xtreme' has been considered the most prestigious event in the freeride world. For the "grande finale" of the Freeride World Tour the elite of freeride will tackle the mythical North Face of theBec des Rosses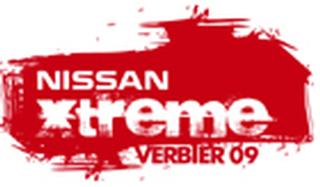 Dates: 20-29 MAR 2009
Location: Verbier (SUI)
Riders: 22 + Wild Cards
- 8 best males on the FWR08 + wild cards
- 3 best females on the FWR08 + wild cards
The final entry list for the Nissan Xtreme - Verbier 09 will be announced at 4pm CET the day of the Nissan Freeride de Tignes
Event schedule:
Thursday, March 19th 2009 - Riders arrival
Friday, March 20th 2009 - Inspection / Opening Ceremony + Bib
Saturday, March 21st 2009 - 9am – 12am Contest on the Bec des Rosses / Prize-Giving / Ceremony / Official Dinner + Party

Since its start in 1996 the "Xtreme" has been considered the most prestigious event in the freeride world. For the "grande finale" of the Freeride World Tour the elite of freeride will tackle the mythical North Face of theBec des Rosses, a dauntingly steep and frighteningly jagged 500 m rock-face.

The Bec des Rosses presents in places some 55 degrees sheer slopes. In an upright position one could nearly lean on the face with one's elbow. With steep and narrow couloirs, high rock cliffs, changing snow and terrain, it asks the riders to be particularly skilled with top physical condition, thorough mountain experience, and top placements in the previous contests.
Around 5000 spectators join the riders at one of the most beautiful natural arenas of the Alps, the Col des Gentianes in Verbier.
Related Pages
Advertisement