FS04 London Freeze 2009
30 Oct-1 Nov 09
After last years inaugural event, the Freeze is back with an even bigger kicker an tunes by Orbital & Friendly fires.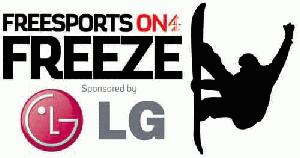 The LG Snowboard FIS World Cup returns to London once again. On Saturday the 31st October, FSO4 Freeze will host the LG London Big Air bringing riders from around the world into England's capital.
The Battle Of Britain is the perfect chance for the home grown talent to strut their stuff in front of friends and family. For UK riders like Dom Harrington it is an opportunity to show the Internationals the UK snowboarders aint messing about.
2 live music stages playing to a capacity of thousands is a great end to a day of snow action. 2008 witnessed the return of hip hop legends Cypress Hill to the UK for the first time in 4 years. So far for 2009 Orbital, Friendly Fires
Around the event there will be a number of bars and caterers serving up some good grub and icy cold pints. Look out for the extra special Apres style resort bars and the winter themed chill out zones.
All new for 2009 will be a fun fair to suit all from thrill seekers to love birds. Your favourite carnival rides will be on hand whether you want an adrenaline rush or a high flying view of the site, the FSO4 Freeze fun fair has something for all.
Tickets will cost £85 for all 3 days or single days are £35 if bought in advance.
Related Pages
Advertisement