Metro Ski & Snowboard Show 2008, London
22-26 October 08
Promises to be even bigger this year taking up the entire main hall at Olympia. Plenty of stalls, talks, demos & the British Snow Tour Invitational Championship

Same venue as last year but it will taking up the whole of both floors for the first time.
There will be a 40ft kicker this year on the main slope, and will play host to the London Ride and the British Snow Tour Invitational Championship with top British and International athletes competing throughout the week
As always with the Metro Ski and Snowboard Show we aim to encourage visitors to return year on year by providing new and exciting features within the show experience and in 2008 we believe there is more to do than ever.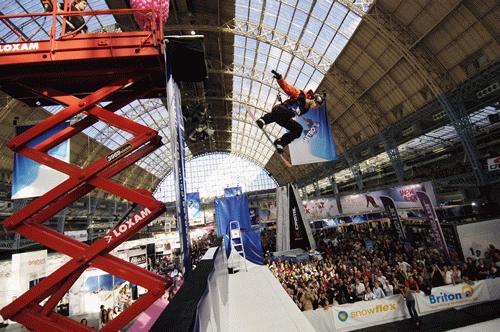 * Come along and visit the sub-zero Ice Kingdom where we will be having a 160m2 ice rink, double the size of last year, an ice bar and a couple of curling rinks where visitors can try their hand at one of the most popular and engaging winter olympic sports.
* Kick back in the roof terrace bar and check out the action going down on the hip kicker below, where riders will getting higher than before, and we will be hosting the London Ride and the British Championships once more.
* Bring the family as kids under 11 get in free and anyone between the ages of 11 and 16 can benefit from a ticket as low as £4. There will be a free creche, ice rink, husky dogs and more to entertain.
* Once again the Land Rover Brand Arena and Fashion Show will be swooping down the catwalk to bring you the latest designs from Salomon, Bonfire, Schoffel, Columbia and Rossignol amongst others.
* The show is taking the whole of the balcony level at Olympia this year to enable us to fit even more in. That is more exhibitors, more features and even more opportunity to get excited about next snowsports season.
* Get a 1 to 1 private ski technique consultation with Warren Smith and his Academy team on the Warren Smith Ski Academy stand. The 1 to 1 sessions include a 15 minute private chat, biomechanics assessment and a free Mobile Ski Tip for your IPOD, IPhone or Mobile phone.
* The Gigloo will once again be providing tunes in the Parklife area with live bands, DJ sets and b-boy workshops through the day.
* Come back shortly for more information on all of this plus the "Snoconut Shy", Ice Sculpting, Husky Dogs, World Resort Bar and other highlights.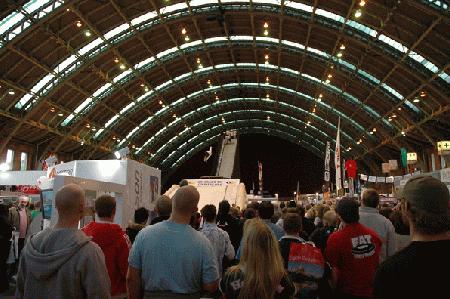 Booking information
Opening times
Weds - Friday 11am - 10pm
Saturday 10am - 8pm
Sunday 10am - 6pm
Tickets are £12 on the door for weekdays (£9 in advance) and £16 at the weekend (£12 in advance). You can get tickets either by phoning 08712 301 100 or online