Red Bull Snowscraper, New York
5 February 09
16 of the world's best snowboarders in New York City on the banks of the East River February 5th from 3 – 9 pm EST, as they compete to own a piece of a $100,000 prize purse at the 5Star Swatch TTR event

For the first-time ever, Red Bull will create an amazing 90-foot state-of-the-art structure for top riders to own the iconic Manhattan skyline. The athlete's will drop in from a nine-story building before flying off the specially constructed kicker toward an immense 80-foot long hip. The innovative hip built by world-renowned designers Frank Wells and Mike Bettera of Snow Park Technology allows riders multiple angles of trajectory— frontside or backside, landing on either the right or left side of the massive 45-degree spine. Additionally, the groundbreaking ramp design will allow spectators to get up close and personal giving fans an opportunity to experience the action first hand as the riders spin roughly four stories into the sky.

New York spectators may deem them insane, but for the competitors, pushing the limits is a constant frame of mind. Although both their skill and style will be put to the test, the challenge here lies in the Red Bull Snowscraper' s unique double-sided pyramid landing that pushes the envelope of big-air competition and rider adaptability.

With so many angles of approach, options, and opportunity, the athlete who ultimately conquers may be determined by their creative state of mind. And that creativity will be rewarded handsomely with hefty $50,000 to the winner. With so much on the line Red Bull left nothing to chance enlisting snowboard legends to judge the banner event soon to be announced.

Iconic snowboarders including Olympic Gold Medalist Shaun White, freestyle / backcountry legend Travis Rice, ultra-progressive phenomenon Pat Moore and soon to be announced others will compete against the majestic backdrop of the East River and the New York City skyline in a contest that should prove to be the biggest winter event in the city.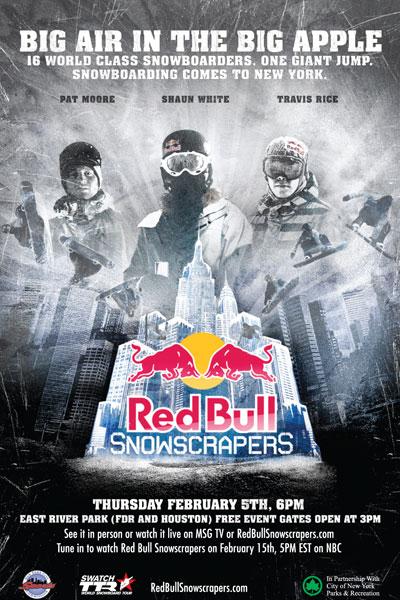 Related Pages
Mens Big-Air Leaderboard
1. Corning, Chris (763.53)
2. Thorgren, Sven (677.76)
3. Gerard, Redmond (605.05)
4. Parrot, Max (596.99)
5. Mack, Kyle (588.06)
Mens Halfpipe Leaderboard
1. Hirano, Ayumu (935.30)
2. White, Shaun (912.63)
3. James, Scotty (847.95)
4. Ferguson, Benjamin (825.97)
5. Totsuka, Yuto (792.05)
Mens Slopestyle Leaderboard
1. Kleveland, Marcus (908.97)
2. McMorris, Mark (876.53)
3. Thorgren, Sven (848.77)
4. Corning, Chris (807.18)
5. Gerard, Redmond (805.27)
Womens Halfpipe Leaderboard
1. Kim, Chloe (1000.00)
2. Clark, Kelly (878.70)
3. Mastro, Maddie (875.23)
4. Liu, Jiayu (834.00)
5. Gold, Arielle (794.39)
Womens Slopestyle Leaderboard
1. Anderson, Jamie (933.33)
2. O`Brien, Spencer (839.51)
3. Norendal, Silje (678.85)
4. Rukajarvi, Enni (676.14)
5. Marino, Julia (635.32)
Advertisement