ESPN Winter X Games 2008
24-27 January 08, Aspen Snowmass, USA
The worlds top riders will be hitting Aspen Buttermilk again to compete in the 12th winter x games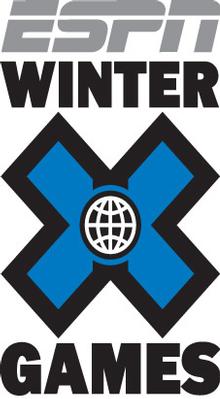 The Winter X Games, the premier winter action sports event in the world, will be held January 24-27, 2008 from Aspen/Snowmass, Colorado. The annual event features athletes from across the globe competing for medals and prize money in the following sports: Skiing, Snowboard and Snowmobile. January 22-23 will serve as practice and elimination days.
All Winter X Games competitions will take place at the resort's Buttermilk Mountain. Winter X Games 12 will air live on ESPN and ABC and will feature nighttime events. The event will remain at Aspen/Snowmass through 2010, for a total of nine consecutive years (2002-2010).
Who to watch out for
Snowboard Slopestyle Men's
Andreas Wiig (Oslo, Norway) put on a show at Winter X Games 11, and in doing so earned his first Winter X gold medal and third medal in four years. Wiig is most noted for his strong and powerful park style and backcountry work. He returns to Winter X Games 12 where he has his work cut out for him as he defends his gold medal against a talented field of others that includes the likes of Shaun White (Carlsbad, Calif.), Travis Rice (Jackson Hole, Wyoming), and Danny Kass (Mammoth Lakes, Calif.).
Snowboard Slopestyle Women's
Cheer on Brit Jenny Jones who in her first x-games has a genuine chance of picking up the top-spot.
A true pioneer in the progression of women's snowboarding, Slopestyle queen Janna Meyen (Bend, Ore.) was the first athlete to four-peat in a single discipline in Winter X Games history in 2006. Meyen did not compete at Winter X Games 11, but returns to Winter X Games 12 with a new outlook on life: to go bigger and to exceed outside of her comfort realm. Competing in all 3 disciplines of snowboarding, 16-year-old Jamie Anderson (South Lake Tahoe, Calif.) won the gold in last year's Women's Slopestyle competition. Anderson made her Winter X Games debut at age 13 as the youngest competitor in Winter X Games history in 2004, won the bronze medal in her very first Slopestyle appearance at Winter X Games 10, and will be the youngest competitor at Winter X Games 12.
Snowboarder X Men's
Nate Holland (Squaw Valley, Calif.) won his second consecutive gold medal at Winter X Games 11 and is looking to three peat at Winter X Games 12. Holland is a member of the US Snowboarding Team and a 2006 Olympian. Known for his no-holds-barred style of racing, Holland's style is described as confident and aggressive with superior jumping strength. Returning for his ninth Winter X Games, Shaun Palmer (South Lake Tahoe, Calif.) is
the oldest athlete in the Snowboarder X field at 39 years old. Palmer, who is tied with Shaun White (Carlsbad, Calif.) for most ever Winter X Games gold medals, is a natural athlete with an aggressive style and attitude. Seth Wescott (Sugarloaf, Maine) won the Olympic gold medal in 2006, and is the owner of the most total medals in Winter X Games history. However, Wescott is still looking to add his first Winter X Games gold medal to his collection.
Snowboarder X Women's
Back from injury and a confident start to the season, Word number 6 and occassional WSG writer Zoe Gillings has a great chance of taking a medal this year.
In a race that mirrored the famous contest at the 2006 Olympic games in Italy, Lindsey Jacobelis (Stratton, Vt.) fell just short of the finish line in the Winter X 11 Snowboarder X Women's contest, giving Joanie Anderson (South Lake Tahoe, Calif.) her first Winter X gold medal. Jacobelis settled for the silver medal at Winter X 11 and is no doubt poised to do everything she can to stay on her feet this year and win her fourth Snowboarder X gold at
Winter X 12. Olympic gold medalist Tanja Frieden (Thun, Switzerland) knew that her passion for snowboarding would not be a passing phase from the moment she strapped into a snowboard in 1989. Her goal of being the best in the world was met at the 2006 Torino Olympics when she won the gold medal in boardercross passing the race leader, Jacobellis, just before the finish line. Anderson, Frieden, and Jacobelis will be competing together at Winter X Games 12 in a tight battle to see who really deserves the gold.
Snowboard SuperPipe Men's
Six-time Winter X Games gold medalist and Olympic gold medalist Shaun White (Carlsbad, Calif.) took the silver at last year's SuperPipe contest and is still one gold medal short of setting a new record for the most gold medals in Winter X Games history. Fresh off his skateboarding season, White will no doubt be one of the pipe favorites. White will have to beat out last year's SuperPipe gold medalist Steve Fisher (Breckenridge, Colo.) and fellow US Olympian Mason Aguirre (Mammoth Lakes, Calif.) who both refuse to ever make winning easy for White. Aguirre
will be gunning for his first Winter X gold medal after collecting a silver and a bronze the past two years.
Snowboard SuperPipe Women's
Olympian Torah Bright (Cooma, Australia) put it all together at Winter X 11 and earned her first Winter X gold in the SuperPipe Wonen's contest. In doing so she beat out Aspen local, Olympic silver medalist, and two-time Winter X SuperPipe gold medalist Gretchen Bleiler (Aspen/Snowmass, Colo.). Bleiler returns this year for her seventh Winter X Games appearance, and will be joined by 2006 Olympic gold medalist Hannah Teter (Belmont, Vt.) The extremely gregarious Teter returns for her fifth Winter X Games appearance and seeks to regain
SuperPipe gold after being the Winter X Games Eight champion.
Snowboard Big Air
Two of the biggest names in men's snowboarding, Andreas Wiig (Oslo, Norway) and Travis Rice (Jackson Hole, Wyoming) are both athletes to watch in the newest event added, Snowboard Big Air contest at Winter X Games 12. No one quite knows what either of them plans on throwing down, but it will be one contest fans will not want to miss.
Competition Schedule
Wednesday, January 23, 2008 CLOSED TO THE PUBLIC but open to the media

5:30 p.m. – 7:30 p.m. Skiing SuperPipe Men's Elimination

7:00 p.m. – 8:30 p.m. Snowmobile Speed & Style Practice

7:00 p.m. – 9:00 p.m. Snowboard Big Air Practice

7:00 p.m. – 9:00 p.m. Skiing Big Air Practice

Thursday, January 24, 2008

8:00 a.m. – 9:45 a.m. Snowboard SuperPipe Women's Practice

8:30 a.m. – 11:00 a.m. Snowboarder X Men's & Women's Practice

9:00 a.m. – 12:00 p.m. Snowboard Slopestyle Men's & Women's Practice

10:00 a.m. – 11:30 a.m. Snowmobile Speed & Style Practice

10:00 a.m. – 12:00 p.m. Snowboard SuperPipe Women's Elimination

11:15 a.m. – 1:45 p.m. Skiing Skier X Men's & Women's Practice

12:30 p.m. – 2:30 p.m. Snowmobile SnoCross Practice

12:30 p.m. – 4:00 p.m. Skiing Slopestyle Men's Practice

2:00 p.m. – 4:00 p.m. Mono Skier X Qualifying

4:00 p.m. – 5:30 p.m. Skiing SuperPipe Women's Practice

5:00 p.m. – 6:00 p.m. Snowmobile Speed & Style Practice

5:30 p.m. – 7:15 p.m. Skiing SuperPipe Men's Practice

7:00 p.m. – 7:45 p.m. Snowmobile Speed & Style Final

7:00 p.m. – 9:00 p.m. Snowboard Big Air Practice

7:00 p.m. – 9:00 p.m. Skiing Big Air Practice

7:30 p.m. – 9:00 p.m. Skiing SuperPipe Men's Final

Friday, January 25, 2008

8:30 a.m. – 9:30 a.m. Snowboard Snowboarder X Men's & Women's Practice

8:30 a.m. – 9:45 a.m. Snowboard Slopestyle Women's Practice

9:00 a.m. – 11:00 a.m. Snowboard SuperPipe Men's & Women's Practice

9:30 a.m. – 12:00 p.m. Snowboarder X Men's & Women's Qualifying

10:00 a.m. – 12:00 p.m. Snowboard Slopestyle Women's Elimination

11:30 a.m. - 12:30 p.m. Skiing Skier X Men's & Women's Practice

12:00 p.m. – 12:45 p.m. Snowboard Slopestyle Men's Practice

12:00 p.m. – 1:00 p.m. Snowmobile SnoCross Practice

12:30 p.m. – 2:00 p.m. Skiing Skier X Men's & Women's Qualifying

1:00 p.m. – 3:00 p.m. Snowboard Slopestyle Men's Elimination

2:00 p.m. – 4:00 p.m. Mono Skier X Semis & Consolation

3:00 p.m. – 4:00 p.m. Skiing Slopestyle Men's Practice

4:30 p.m. – 5:30 p.m. Skiing SuperPipe Women's Practice

5:00 p.m. – 6:00 p.m. Snowmobile SnoCross Practice

5:30 p.m. – 6:30 p.m. Skiing SuperPipe Women's Final

6:30 p.m. – 7:30 p.m. Snowboard SuperPipe Women's Practice

7:00 p.m. – 8:00 p.m. Snowboard Big Air Practice

7:00 p.m. – 8:30 p.m. Skiing Big Air Practice

7:30 p.m. – 8:45 p.m. Snowmobile SnoCross Round 1

7:45 p.m. – 8:45 p.m. Snowboard SuperPipe Women's Final

8:45 p.m. – 9:30 p.m. Skiing Big Air Final

Saturday, January 26, 2008

8:00 a.m. – 12:00 p.m. Snowboard SuperPipe Men's Practice

8:30 a.m. – 10:30 a.m. Snowmobile Freestyle Practice

8:30 a.m. – 11:15 a.m. Skiing Slopestyle Practice

10:30 a.m. – 12:45 p.m. Snowboarder X Men's & Women's Practice

11:15 a.m. – 12:15 p.m. Snowboard Slopestyle Women's Practice

11:30 a.m. – 12:30 p.m. Snowmobile SnoCross Rd. 2 Practice

12:15 p.m. – 1:45 p.m. Snowboard Slopestyle Women's Final

1:00 p.m. – 2:30 p.m. Snowboarder X Men's & Women's Final

1:45 p.m. – 2:30 p.m. Snowboard Slopestyle Men's Practice

2:30 p.m. – 4:00 p.m. Mono Skier X Practice

2:30 p.m. – 3:00 p.m. Snowmobile SnoCross Round 2

2:30 p.m. – 4:00 p.m. Snowboard Slopestyle Men's Final

4:00 p.m. – 6:00 p.m. Snowboard SuperPipe Men's Practice

6:15 p.m. – 7:45 p.m. Snowboard SuperPipe Men's Elimination

7:00 p.m. – 8:00 p.m. Snowboard Big Air Practice

7:45 p.m. – 8:15 p.m. Snowmobile SnoCross Final

8:15 p.m. – 9:00 p.m. Snowboard Big Air Final

Sunday, January 27, 2008

9:00 a.m. – 10:45 a.m. Skiing Slopestyle Practice

9:00 a.m. – 11:00 a.m. Snowmobile Freestyle Practice

9:00 a.m. – 11:45 a.m. Skiing Skier X Men's & Women's Practice

11:00 a.m. – 1:00 p.m. Skiing Slopestyle Elimination

12:00 p.m. – 2:00 p.m. Skiing Skier X Men's & Women's Final

12:45 p.m. – 2:30 p.m. Snowmobile Freestyle Elimination

1:00 p.m. – 2:15 p.m. Skiing Slopestyle Practice

2:30 p.m. – 2:45 p.m. Mono Skier X Final

2:30 p.m. – 4:00 p.m. Skiing Slopestyle Final

5:00 p.m. – 6:00 p.m. Snowmobile Freestyle Practice

5:00 p.m. – 7:15 p.m. Snowboard SuperPipe Men's Practice

7:00 p.m. – 7:45 p.m. Snowmobile Freestyle Final

7:30 p.m. – 9:00 p.m. Snowboard SuperPipe Men's Final
For media planning only–this day is
8:30 a.m. – 11:00 a.m. Skiing Skier X Men's & Women's Practice
9:00 a.m. – 12:00 p.m. Snowboard SuperPipe Men's & Women's Practice
9:00 a.m. – 12:00 p.m. Skiing Slopestyle Men's Practice
11:15 a.m. – 1:45 p.m. Snowboarder X Men's & Women's Practice
12:30 p.m. – 4:00 p.m. Snowboard Slopestyle Men's & Women's Practice
2:00 p.m. – 4:00 p.m. Mono Skier X Practice
4:00 p.m. – 5:15 p.m. Skiing SuperPipe Men's Practice