James foster Interview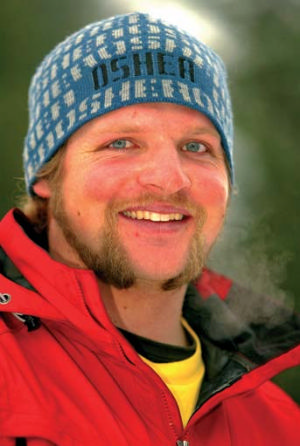 1- Which event are you aiming to compete in?
2- What's your ambition for this Olympics?
I am aiming to win, but will have to see how it goes!!!
3- Do you think there's enough help given in this country for people trying
to compete in the Olympics?
Definitely not, as I am in debt over my head just trying to train! 
4- What's your favorite resort and why?
I don't really know as most resorts I go to have something different, I like
Tignes as I know loads of people there and the terrain, Laax has the best
pipe and rad easy off piste terrain, mt hood is wicked in the summer. and
5- What tunes are you listening to these days?
You could classify it as heavy/death metal and then on the flipside I am
also getting into my country and western!
6- What do you want to do when you finish competing?
I haven't decided yet but there is always the opportunity to stay in
industry, ie lodge work for a company or even go back to school and train
for something else. The one thing I do know is I don't want to be stuck
7- Who do you thinks pushing the boundaries of our sport today and why?
Right now the Finns seam to be at the top of the list in both hp and big
air, the are numerous to chose from like Annti Autti, Risto Mattila, Mikka
8- What's your biggest interest outside the sport?
I used to do loads of BMXing but I haven't been on one for ages, I also used
to do a bit of wrestling with my friends in their promotion
(uwahardcorewrestling.com)
Spending my early years in Canada I like winter stuff too from pickup icehockey to skidooing! Like most people I enjoy movies, music.
9- Ever owned an all in one ski suit, and if yes, what colour was it?
YES I did own one but it was years ago, when I used to ski. it was dark blue
with nice green and red stripes on it. AND IT WAS RAD  I was only 7 years old so give me a break!
10- Which football team do you support?
When I first came over to stay for good, about 5 years ago, I lived with the
dragon lodge boys. Them being welsh they got me watching footie and as with
most Welsh they followed Liverpool!
11- When did you know you wanted to be a professional snowboarder?
When I was a kid ie 4 I always wanted to be a pro skier. Once I stopped
skiing and started riding, I was 11, my ambition to be a pro skier obviously
changed.
I bugged my parents when I was around 14 to enter me in a comp........it happen'd to be a snowboardcross .I finished 2nd place, had a ball and took home lots of swag .............. I was hooked!
12- Ever been caught in an Avalanche, if yes what happened?
thankfully no, touch wood
13- Where's your favorite Terrain Park and why?
the best terrain park I have ever been in was at Stratton vermont, years and
years ago. It wasn't the biggest or the flashiest but they had so many fun
things to do, hips, transfers, little gaps, kickers, and a massive pipe
(well it was massive for those days)
14- Have you ever been drug tested and do you think there's drug abuse in
the sport? (Steroids not hash!)
No I have never been drug tested but i am sure my time will come. There is
some abuse in the sport but it hasn't gone crazy yet. You do get a few teams
using drugs to build up strength but as snowboarding isn't a strength sport
I don't see much of a point!
15- What's the highlight of your snowboard career so far?
I met HRH Prince Edward, best comp moment was making it to the final moto heat
in the US Open in Snowboard Cross.
16- What's your favorite book?
Right now I am really liking the Emperor series, a historical story type of
thing about Julius Ceasar. But best book of all time would be the Lord of
17- When, where, and why was the last time you fell off a drag lift?
it happens far to often to remember each time!!!
18- What's your favourite snowboard DVD?
best snowboard film ever would have to be Stomping grounds (mack dawg) or
Young Brown Walsh (shorty's) both from 90 something
19- What was your take on the Canadian Ross Rebagliati, who had his gold
taken away and then reinstated when testing positive for cannabis at the
I think that he was incredibly lucky and it was the best thing that ever
happened to him. It was a shame that it happened in the first year
snowboarding was in the games as it didn't do much for our image. it is
still a big issue as most people find it hard to believe that cannabis can
be performance enhancing but regardless of what the general consensus is
there is no doubt in the eyes of the IOC and FIS.
20- What's your favourite film?
There are way too many to choose from, but LOTR is rad, so is the original
Star Wars. In another genre Scarface and Godfather trilogy so there is a
list of 4, well actually 10 but who's counting
.
21- Where was the best Powder descent you've ever had?
I have had afew really nice ones in Tignes over the years, but also the few
times I have been in Whistler I was able to shred the gnar in some real deep
22- Please write a short profile of yourself
24 year old ex-wrestler turned snowboarder. that just about sums me up, a
bit from each side of the spectrum! I have always been a avid skier snowboarder from the age of around 3 I guess.
I am an easy going guy with a passion which really has formed my outlook on life, my life so far from where I live, how I live and I think my future.