Zoe Gillings Interview
1- Which event are you aiming to compete in?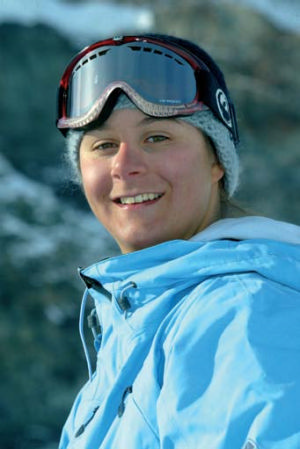 Snowboardcross
2- What's your ambition for this Olympics?
Due to the nature of Snowboardcross you never know if something totally out of your control is going to happen such as one of the other competitors falling right in front of you. So it's very hard to say what is going to happen on the day.
3- Do you think there's enough help given in this country for people trying to compete in the Olympics?
I think once athletes get to world standard there's a lot of support but not enough for up and coming youngsters.
4- What's your favourite resort and why?
Saas Fee, Switzerland. Because they have a permanent SBX track all summer.
5- What tunes are you listening to these days?
I have a mixture on my MP3 player at the moment including: Black Sabeth, Green Day, White stripes, Aerosmith, Beatles, Kid rock and limp biskit.
6- What do you want to do when you finish competing?
No idea, there is nothing I like better.
7- Who do you thinks pushing the boundaries of our sport today and why?
Boundaries? What boundaries? 
8- What's your biggest interest outside the sport?
Gotta say watching movies, I can't get enough.
9- Ever owned an all in one ski suit, and if yes, what colour was it?
Unfortunately yes, when I was about 8 years old and to my horror I think it was pink.
10- Which football team do you support?
None (sorry).
11- When did you know you wanted to be a professional snowboarder?
When I was about 12, my friends and I were talking about what we wanted to be when we grew up, you know…. Vets, painters, writers the usual stuff. Until I said I wanted to be a pro snowboarder, my friends laughed of course but I was serious.
12- Ever been caught in an Avalanche, if yes what happened?
No (touch wood)
13- Where's your favourite Terrain Park and why?
Although I didn't get to spend much time in it the one at Park city was brilliant, it was just so big! They had all the different kinds of jumps you can think if and loads of rails. There was also a great pipe there too.
14- Have you ever been drug tested and do you think there's drug abuse in the sport? (Steroids not hash!) – Like the clarification!
Yeah I have been drug tested twice actually. The first time was in Arosa, Switzerland in 2004 I didn't mind too much then because it was because I had come 4th  in the comp and when they have testing at a world cup SBX event the top 4 always get tested. The second time was in Japan later that season, then I didn't like it too much because I had had a really bad day, done poorly in the comp and then got random picked for a drug test. I don't mind saying it is really embarrassing, but unfortunately I think it is necessary because there are people out there who given the chance will win by whatever means. Needless to say I tested negative both times.
15- What's the highlight of your snowboard career so far?
Winning the World cup in Chile last September; I had been working really hard all summer and was delighted when it paid off.
16- What's your favourite book?
Oh I am a big Harry Potter fan!
17- When, where, and why was the last time you fell off a drag lift?
I can't remember when the last time was but I do remember one of the first. It was in M
egeve, France when I was 4 going up a T bar with my Dad who had the bar around his ankles because I was so small.
18- What's your favourite snowboard DVD?
The white album.
19- What was your take on the Canadian Ross Rebagliati, who had his gold taken away and then reinstated when testing positive for cannabis at the Nagano Games?
That he must be the snowboarder who is most widely known for competing in the Olympics. 
20- What's your favourite film?
Pirates of the Caribbean. I must have watched it 15 times.
21- Where was the best Powder descent you've ever had?
The tree runs in Morgins, Switzerland last season.
22- Please write a short profile of yourself
I was born and brought up in the Isle of Man and started skiing when I was 4 when I got to 10 I wanted to do something new so started snowboarding. By 12 I embarrassed a few of the older competitors by coming 3rd overall in the 1998 British Championships in Saas Fee, and ended up in the British Junior Team. I did well in the youth category on the British scene and some international competitions over the next few years.


In such a young sport access to full time coaching was virtually impossible in Britain; so four years ago, when I was 16 I decided to go to train full time in Canada with coach Craig Smith.
Last season was my best as I had my 1st world cup win, went to my first world championships and finished the season 4th in the world.
I have been described before as 'not a girly girl…she rides her board way too fast and has absolutely no fear of anything, yet she seems to be so relaxed and calm at the same time.'
1st World Cup SBX, Sept 2004, Valle Nevada, Chile
2nd World Cup SBX, Sept 2004, Valle Nevada, Chile
1st British Championships, March 2004, Les Deux Alpes (Fr)