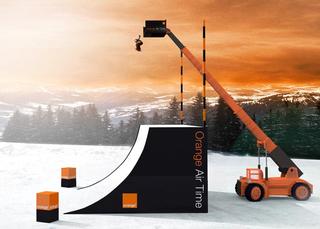 Organisers of the Orange British Snowboard and Freestyle Ski Championships; The Orange BRITS, today announced that this year's competition will feature an event that has never been staged before in Europe (and has only been attempted once before anywhere in the world.)
The Orange 'Air Time' event will take place in Laax, Switzerland on the 16th March 2006 and is a free fall competition that will see British skiers and snowboarders jump from a crane onto snow. Ten of UK's most courageous snowsports' freestylers - six snowboarders and four skiers - will be selected to jump from a platform suspended high above a free-standing snow quarter pipe (curved landing area).
Starting at the qualifying height of five metres above the quarter pipe, the competitors jump one by one. Each round the platform is heightened by 1 metre, until only one remains. Competitors are eliminated by either falling upon landing or bowing out. The crane is able to extend to twenty metres high (equivalent to a 6 storey building), which would be a new world record.
The Orange Air Time event will take place in front of hundreds of spectators in the heart of Laax and is expected to be one of the biggest attractions at this year's event.
Stuart Brass of Soulsports, the organisers of the Orange BRITS, commented: " Orange is a key partner for the BRITS, and this year we both felt it right that we add a new element to the competition to give British skiers and snowboarders the opportunity to set the standard in a totally new and incredibly exciting event. The boundaries are always being pushed in this sport and this is an example of how innovation and ambition can help the British scene to break new ground . We're aiming for a Brit to come away with an incredible British and European record that will be difficult to beat in future competitions ."
To experience the legendary action at the Orange Brits between the 11 th and 18 th March event organisers and Laax are offering a holiday package including 7 nights accommodation, 6 days liftpass, a party wristband and event-bag – all from only £249. Bookings can be made on www.orangebrits.com.