Things are finally opening up in Scotland, after some very recent snow showers and more predicted on Monday next week.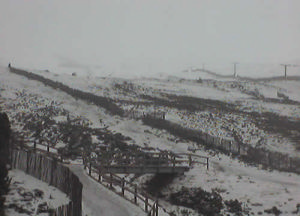 Cairngorms
In the Cairngorms (photos shown 23rd Feb) things still aren't open fully but there's enough snow to board from the top to the middle, and there's a kicker and two rails above the Ptarmigan tow.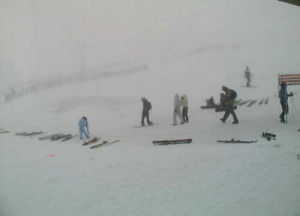 Nevis Range
On the Nevis range 9 our the 12 lifts are open with pretty good snow coverage all over, but things start thinning out the further down you go.
For any nutters out there, its the time of the Mammoth Decent in 2 days time (25th Feb). Sign up and race from the summit of Aonach Mor to Sgurr Finnisg-aig viewpoint, pretty much any way you can. If you're interested, then meet at 4pm at the summit, and the race starts at 4:30pm. After the race is over have a beers and watch the torch procession head down. Contact [email protected] or just turn up on the day.
Glencoe
All the runs are open, there's decent snow cover and it should be nice and sunny over the weekend; sweet, might head up there myself. As with all the Scottish resorts stay high up for the best conditions.
Glenshee
Ten of the 24 lifts are open, with patchy conditions
The Lect
Most of the runs are open, a little patchy in places and defineatly icy but its open!