Xscape Braehead is the ultimate family entertainment destination combining 'real' snow slopes with urban and lifestyle retailers, cool bars and restaurants, cinema, family attractions and extreme activities, all under one roof.

The glittering launch party will take place in April 2006 and everyone's invited. Visit the website to www.xscape.co.uk closer to the time to find out more details about the event such as the carnival parade, live music, fireworks and theatre performers.
What's Inside
Whether day or night Xscape has something to offer everyone including:
• UK's largest indoor real snow slope (with dedicated lesson slope)
• 12 screen multiplex \cinema
• 22 lanes bowling
• One of the largest freestanding climbing walls in the UK
• State of the art aerial adventure course, 60m long, 15m above the ground
• Fandrop - clip on, jump and freefall
• Robocoaster - the world's first passenger carrying robot
• 24107 sq m of leisure
• 6711 sq m of food and drink
• 3774 sq m retail

With all this, plus regular special events, free family entertainment, and more under one roof it's easy to see why Xscape Braehead will be Scotland's ULTIMATE ENTERTAINMENT DESTINATION!
Here's some answers to all those burning questions…
How big are the ski slopes and are beginners catered for?

The main snow slope is 200 metres long and the nursery slope 50 metres. So lots of space for the experienced and less experienced to try out their skills.

How much does it cost to get into Xscape? There is no charge to come inside to have a look around and watch the action around you – simply pay for the activities you want to do ie: snow, climb, bowl, dine, movies, shop. Plus every school holidays there's free family entertainment including workshops, performers, face painting etc.

What if we just want to have a look? The venue is entirely themed to provide a spectacular experience for visitors just by entering the building and the placement of all the activities means that visitors can see first hand how achievable it is for all ages to partake in action adventure (and the more relaxing pursuits) to make the most of their leisure time and tourism visits. Where else can you stroll past giant climbing towers as you do a spot of shopping? There are also panoramic views of the REAL Snow Slope from the alpine themed Snow Bar where you can relax with a coffee or something stronger and a snack or meal as you watch the action!

Is the snow real and how is it made? Yes, it now snows every night in Scotland! 16 snow guns fire cooled water into air chilled to -2O to make the 1500 tonnes of perfect REAL SNOW needed to cover the 200m slope! The slope is housed in a giant freezer and is groomed daily to ensure the piste is kept in perfect condition for skiers, boarders and tobogganers.

Can anyone go on the Real Snow Slope? We encourage individuals and groups of all ages to come and try the Real Snow experience. Join us for a recreational ski/snowboard session if you meet the minimum recreational standard (control speed, link turns and use a poma lift). If you are not a competent skier/boarder you can join us for a lesson with our qualified instructors on the dedicated lesson slope or you may wish to find out more about tobogganing parties!!!!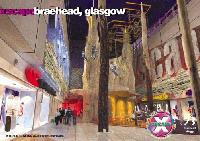 What other activites will there be inside? Check out climbzone; You can take on the vertical challenge of rock climbing on the indoor climbing walls, or if you have a head for heights the the SkyPark is for you - an aerial adventure course 60 long and 15m high, including: zip slide, swinging platforms, Burma bridge, rope ladders and cargo nets. Or you could try the Fandrop - Twin fan descenders the first of their kind in the world – clip on and jump! Freefall most of the way until the fan slows you to a gentle landing 15m below! Or experience the Robocoaster – the only robotic arm ride in the UK. Program the robot yourself! Get strapped in and hold on tight! All the activities are run by the professional Climbzone team. Experienced instructors will look after your safety whilst you enjoy the thrills and excitement of Climbzone – probably the best adventure park in the UK.

What if we just want to relax? Alongside the extreme side of things you can come along and enjoy the more relaxing things in life…including watching a movie at the 12 screen cinema, having a game of bowling Plus – it's the ideal place to Drink & Dine … enjoy food and drink from all over the world in one of our bars and restaurants – there really is something for everyone. Or Shop til you drop…get in some retail therapy – with over 100 leading urban and sports brands – so you can treat yourself – or find the gift for the person who has almost everything!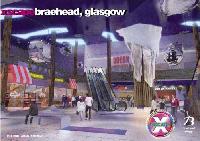 If you're looking for an exciting day out where you can ski on the UK's biggest REAL indoor snow slope, learn how to ski on a beginners slope, visit a 12 screen multiplex cinema, 22 lane bowling, go rock climbing on one of the largest freestanding climbing walls in the UK, try out a state of the art aerial adventure course, experience the world's first passenger carrying robot, or jump and freefall on the Fandrop, Xscape is the place for you.


When will Xscape Braehead open?
The design commenced Jan 04 and work started on site in Sept 05. Construction and developments are on schedule – and the Xscape doors will open in April 2006

Xscape Braehead is an investment of £70 million of private money. It is creating 1000 new jobs for people living in Scotland. It will add impetus to Scotland's already thriving tourist trade and aims to become one of Scotland's favourite destinations.