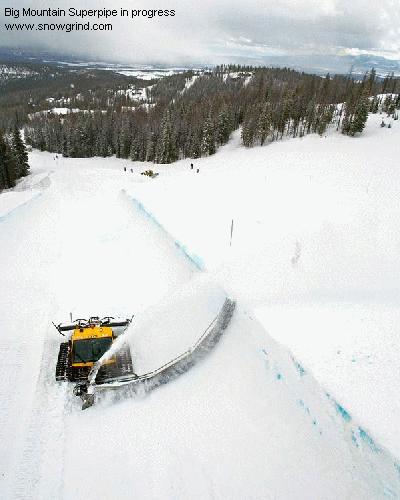 Big Mountain Resort has announced the grand opening of the resort's new Super Pipe. Grooming crews have been working around the clock for the March 4 grand opening of the much-anticipated pipe, located on the Ranger Trail headwall to the east of the Question Mark trail in the Chair 3 area.

The pipe is 450 feet long, 57 feet wide, with 18-foot high walls, and a 16-degree pitch, all to Federation of International Skiing (FIS) competition standards. Snowmaking, lights for night use during scheduled night skiing, and a sound system are also part of the pipe package.

Big Mountain purchased a new Zaugg Pipe Monster grooming implement this past fall. The Pipe Monster is the industry standard superpipe groomer and has been featured in the US Open Snowboarding Championship, the ESPN Winter X-Games, the World Cup, and many other events around the world.

Super Pipes are wider and longer than conventional half pipes and allow riders to get much higher out of the pipe and perform tricks that are more progressive. Some studies suggest that the larger pipes are also safer because of the longer transition. Super Pipes are also becoming the new standard for half pipe competitions and a super pipe was recently featured in the 2006 Winter Olympic Games in Torino, Italy.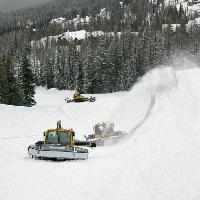 Operations, grooming, and snowmaking crews have been working steadily on the construction of the new super pipe, which began with major excavation, blasting, and dirt work this past fall. While the resort has experienced record snowfall this winter, unseasonably warm weather, especially in the lower elevations where the pipe is located, delayed critical snowmaking efforts for the enormous amounts of snow required for a pipe of this magnitude.

The new Super Pipe is served by Chairs 2 and 3 and a lift ticket is required for use of the Pipe. Big Mountain's new Fish Bowl Terrain Park is also located in the Chair 3 area.