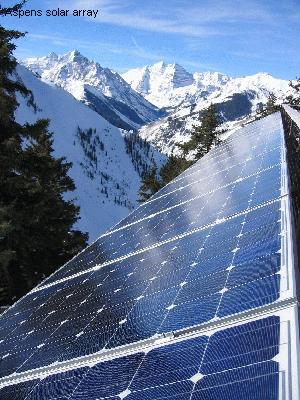 Aspen completes solar energy system
Aspen Skiing Company announced completion of the largest solar energy system in the ski industry. The 2.3 kilowatt array is part of Aspen Highlands patrol headquarters at the top of the Loge lift. The system provides enough energy annually to run an average home for half a year. In the summer, when the building isn't occupied, the system runs the electric meter backwards, creating a credit for the following year.

Aspen Highlands Mountain Manager Ron Chauner says, "The building site was selected to take advantage of the stunning views of the Maroon Creek Valley and portions of the Highland Bowl as well as the solar gain the structure collects during a sunny day. Now that the solar panels are in operation the vision for this building to be as self sufficient as possible is complete."

The 2.3 kilowatt solar array produces 9.6 kilowatt-hours per day, or 3,500 kWh per year. (A kilowatt-hour is the amount of energy it takes to run a dishwasher through one cycle.) This clean energy production keeps 7,000 pounds of carbon dioxide, the primary greenhouse gas, out of the atmosphere annually --- that's five car-weights worth of pollution. In a day, the system generates enough electricity to lift an F-150 from the base of Aspen Highlands to the summit, more than 3,600 vertical feet, or the amount of energy it takes to ride a bike 1,000 miles; it's the equivalent of the amount of work ten strong men (or women) could do in a day.

The project cost approximately $23,000 to complete. Aspen Skiing Company received grants from Holy Cross Energy and the Community Office of Resource Efficiency to pay for 40 percent of the installation costs.

Funds from Holy Cross Energy were provided through their WE CARE (With Efficiency, Conservation And Renewable Energy) rebate program. Holy Cross Energy Member Services Supervisor, Steve Casey says, "The Highlands PV system demonstrates that small scale projects can provide lasting benefits to the environment. Holy Cross Energy is excited about the contributions we are making to the 'Renewable Energy Generation' movement. We look forward to playing an active role in future projects contemplated by Aspen Skiing Company and other consumers within our service territory."
The 2006 POWERade Colorado Freeride Championships
Aspen/Snowmass hosts the POWERade Colorado Freeride Championships presented by Stihl, this Friday and Saturday, March 10-11 at Snowmass. This event draws some of the best freeride skiers and snowboarders in the nation and is part of the IFSA series.

The POWERade Colorado Freeride Championships presented by Stihl brings you a weekend of steeps, cliffs and monster hucks. The championship weekend event takes place March 10 and 11. The event is held on Snowmass' famed Hanging Valley Headwall and Burn Side Cliffs, steep faces littered with rocks, cliffs and hanging snowfields. Over 22 feet of snow has fallen this season, ensuring a great competition.

Competitors this weekend include Kiffor Berg, Frank Shine, Cliff Bennett, Nick Devore and Jamie Britt. Past champions include skiers Ted Davenport and two-time U.S. National Freeskiing Champion, Rex Wehrman.

Friday's event will take place on the Hanging Valley Headwall from 10am to 3pm. Saturday's comp will move to the Burnside Cliffs and can be viewed form the deck at Gwyn's High Alpine restaurant, also from 10am to 3 pm. There is a post event party presented by Cloudveil each day starting at 3:30 at the Blue Door in Snowmass.