The penultimate day of The Orange Brits went up another notch with yet more hardcore action and inevitably a few spills. The crowds rose to the bait of another huge day of competitions for the championships. 
Big Air
Day three and the Big Air Championships were on schedule. The morning blue skies began to cloud slightly after lunchtime, but nothing that would affect the expectancy for the snowboard Big Air final. The men's competition saw Nate Kern pull off an astounding Cab 1080 – a full forwards triple rotation, which is a first in the Orange BRITS and an immense trick which nailed him first place, closely followed by an on-form Scott McMorris who rose to the skies with a textbook frontside 720 mute grab off the big 15m kicker. Providing class and style, Danny Wheeler executed a colossal backside 900 to snap up third place.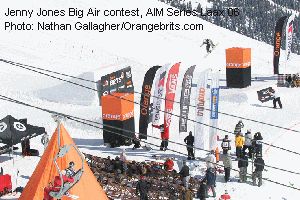 The women's competition sorted the wheat from the grain with only Orange Team captain Jenny Jones attempting to go from the biggest kicker in the final. Charging the field, Jenny chose her line and performed a frontside 540 indy, putting her out in front. Posy Dixon joined Jenny, who were the only two to land cleanly away and packed a backside 360 from the 10m jump. Jo Chasteney also took a backside line with a 180 but slipped slightly on the landing, costing points and putting her in third place. There were multiple slams, a few winces and no doubt bruises but all in all, one of the most exciting events of the week.



Results
Men's Big Air
1. Nate Kern, East Sussex
2. Scott McMorris, Edinburgh
3. Danny Wheeler, Yorkshire 
Women's Big Air
1. Jenny Jones, Bristol
2. Posy Dixon, London
3. Jo Chasteney, Dorset