Today at the Orange BRITS, in Laax, Switzerland, UK snowboarder James Thorne was crowned King of the Orange Air Time, jumping in from a total height of nineteen metres, beating off close competition from Nate Kern and skier Rob Taylor, who both landed their drop from a height of eight metres above the colossal nine metre quarterpipe, but both fell on nine metres.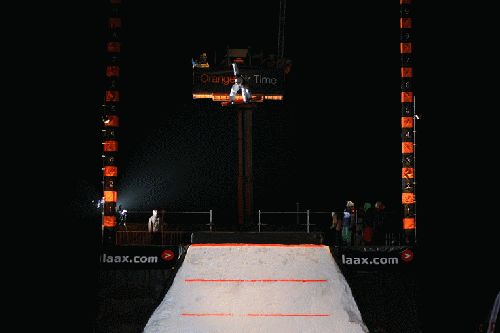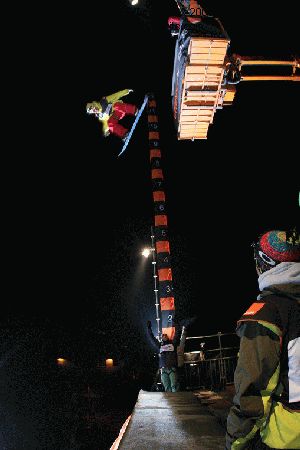 The Orange 'Air Time' event is a free-fall competition that witnessed British skiers and snowboarders jump from a crane onto a snow quarterpipe. Eight of UK's most courageous snow sports freestylers - six snowboarders and two skiers - were selected to jump from the platform suspended high above a free-standing snow quarterpipe (curved landing area).
Starting at the qualifying height of five metres above the quarterpipe, the competitors, including Jenny Jones, Scott McMorris, Gary Greenshields, Andy Bennett and Tyler Chorlton jumped one by one, until all competitors bar James Thorne had either fallen or bowed out.

After landing his new European record, James Thorne commented, "It's pretty scary when you are up there, and looking down, the coping seems very far away. Once you are there though, you just prepare and go for it. I was very stoked to land it. What a way to end the Orange BRITS!"
The Orange Air Time event took place in front of hundreds of spectators in the heart of Laax, and was one of the biggest attractions at this year's event.


Orange Air Time 2006 - Competitors:
Winner - James Thorne, Snowboarder, 24, Norfolk

Nate Kern, Snowboarder, 23, London – Landed 8m
Rob Taylor, Skier, 21, South Wales – Landed 8m
Gary Greenshields, Snowboarder, 26, Edinburgh – Landed 7m
Tyler Chorlton, Snowboarder, 19, Andorra – Landed 6m
Scott McMorris, Snowboarder, 24, Edinburgh - Landed 6m
Andy Bennett, Skier, 23, Nottingham – Landed 5m
Jenny Jones, Snowboarder, 25, Bristol – Landed 4m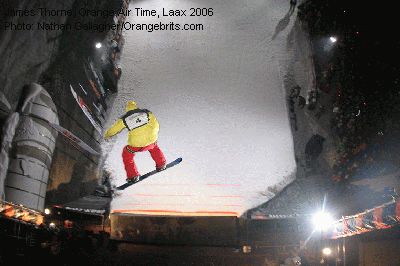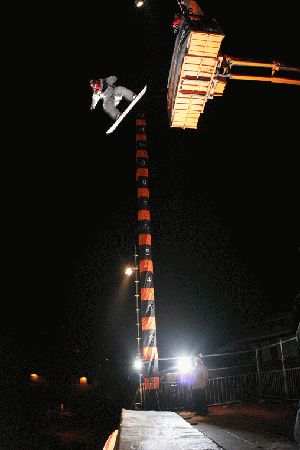 All photos by James Thorne portrait, OrangeAirTime for more information visit www.aimseries.com