Whistler Blackcomb has unveiled plans to build a new high speed detachable quad in the high alpine for the 2006-2007 winter season. The new Piccolo Express Lift on Whistler Mountain will run to the Piccolo peak from the bottom of Flute Bowl and will provide access to more than 1,000 acres of the most spectacular high alpine terrain available in North America. The new lift is part of an overall capital investment of $22.1 million in mountain upgrades at Whistler Blackcomb, consistently ranked as one of the world's top winter resort destinations. With 8,171 skiable acres, Whistler Blackcomb is the largest ski resort in North America.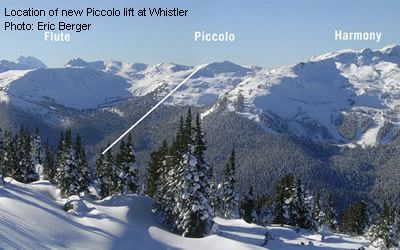 "The new Piccolo Express Lift will open up a brand new era in high alpine access for our intermediate skiers and snowboarders as well as the experts," says Dave Brownlie, Chief Operating Officer at Whistler Blackcomb. "For the first time, our guests will have high speed lift access to this spectacular terrain, with its legendary vast bowls, deep snow and exciting gladed sub-alpine skiing. The new Piccolo Express Lift will provide access to a range of gentle and challenging terrain including the wide open upper bowl area, a new high-intermediate gladed area, and two new conventionally cut trails for low-intermediates. This lift will give our intermediate guests a new opportunity to enjoy a truly incredible high alpine experience on Whistler Mountain with access to wide open bowls that currently have a snow depth of more than five metres (16 feet)."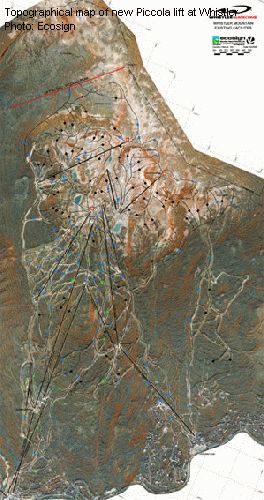 The Piccolo lift will complement Whistler Mountain's existing lift network, in particular the popular Harmony Express. Piccolo will be accessed from the top of The Peak Chair or the top of Harmony. To come home, guests will ski/ride out from the top of the Piccolo Express Lift, along Burnt Stew Trail back to the Harmony Express. Piccolo will provide great high alpine skiing and riding in early and late season. Flute peak will remain a hike-in, in-bounds backcountry experience, although the new lift will eliminate the need to hike back out.

"This is a very special area of pristine mountain terrain and we are fully committed to preserving the natural surroundings for our guests today and for future generations," stresses Doug Forseth, Whistler Blackcomb's Senior Vice President of Operations. "We have engaged the services of environmental experts and a biologist to ensure there is minimal impact from the construction of the new lift. Heli-glading, moving equipment in over snow, and an extensive environmental review of all trail design scenarios are examples of the efforts we will undertake as part of our commitment to continue to innovate while ensuring we develop the most sustainable trail glade designs possible."

The high speed detachable quad will run 2,112 metres (6,929 feet) in length, with a vertical rise of 509 metres (1,670 feet). The top elevation of the lift will be at 2,034 metres (6,673 feet); the bottom elevation will be 1,525 metres (5,003 feet). The over 1,000 skiable acres accessed by this new lift is greater than the average size of all North American ski resorts. And in fact, it's larger than many other resorts in their entirety.

Construction will begin on the lift this spring and will continue through the summer and fall with an expected opening at the beginning of the 2006-2007 winter season. Hiking access to Singing Pass from the Whistler Village Gondola will remain available throughout the summer.

"We are fully committed to enhancing Whistler Blackcomb to ensure we consistently deliver the industry's best experiences for our guests," concludes Brownlie. "Whether it's last season's launch of the family-style Coca Cola Tube Park, or the opening of Peak to Creek, North America's longest intermediate run, or opening up a unique in-bounds backcountry experience in Flute Bowl, we continually strive to be great stewards of the incredible environment we have been entrusted with."

Further capital plans within the $22.1 million to be spent for the 2006-2007 season will be announced in the summer and will include investment in mountain improvements, snowmaking and trail maintenance.