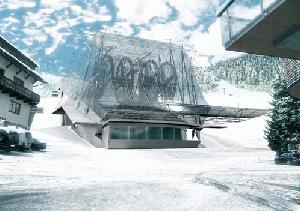 St. Anton am Arlberg, are replacing the slow old Galzigbahn chair that took you from the centre of St.Anton with a new gondola.
The Funitel system has a "Ferris wheel" which will allow it to to take passengers from the ground-level, a world first so they say.  There will be 28 bubbles carrying 24 persons, 18 sitting and 6 standing, with a speed of 6m/sec, this triples the previous carrying capacity of the Galzigbahn. 

Architect Georg Driendl has designed a gondola which will not only shunt  more people up the mountain, but has been designed as a work of art, or so they're trying to get across on the press release. The building  will also contain some old historic gondolas, but most importantly it'll be lit up at night, so you'll finally have something to aim for when you stumble battered out of the Moosevert and realise you still have to board down the last bit of the mountain ...
Technical basic data:
Height of valley station 1319 m
Height of top station 2085 m
Position of the motor in the top station
Situation of the weight pully in the valley station
Rope diameter 52 mm
Total length rope approx. 10450 m (approx. 110 tons of total weight)
Carrying performance 2200 P/H
Max. speed 6 m/s
28 cabins 24 persons each
Journey time 9.14 min
Motor performance 4 engines per 500 kW/2 transmissions