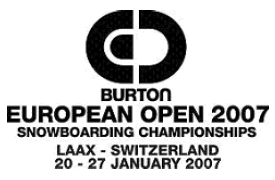 the Burton European Open 07, takes centre stage this coming week as an incredible 80% of the leading Mens TTR Top Ten Ranked riders, presented by Swatch get ready to ride the first scheduled contest, Slopestyle, and earn up to 1000 TTR Ranking Points in Laax, Switzerland, 20th-22nd January, 2007.

With a packed week of seriously superior snowboarding from 20th-27th January, 2007, the Burton European Open 07 ushers in the first set of male and female riders aiming to claim title victory, a share of the huge prize purse and an increase in their TTR Ranking status. With a grand line-up of many of the worlds best freestyle snowboarders competing in the slopestyle contest, the battle for riders in the continuation of the Ticket To Ride (TTR) World Snowboard Tour 06/07 will make an immeasurable impact on the TTR Top Ten.

Current TTR Top Ten leader, Antti Autti (FIN), looks set to hold his TTR World Nr 1 position only if he achieves a podium slopestyle win. His sixth TTR result of the season, Autti could be overthrown by a win from either current TTR World Nr 3, Danny Davis (USA), or current TTR World Nr 4, Travis Rice (USA) whose TTR statistical average is 1st at TTR SIX(6)STAR slopestyle events - if he doesnt finish in the top 23. If reigning TTR World Snowboard Tour Champion Mathieu Crepel (FRA), currently TTR World Nr 6, rides with his average TTR SIX(6)STAR result of 7th place, the odds look hot for Crepel to take the TTR World Nr 2 position. Markku Koski (FIN) also looks set to rise up in the ranks if he wins this, his first TTR slopestyle contest of the season, from current TTR World Nr 9 to TTR World Nr 5. First place would finally allow an entry into the TTR Top Ten for Olympic Gold Medalist, Shaun White (USA), with just three results on his TTR 0607 career record.

In the TTR Women's World Snowboard Tour, the absence of Jamie Anderson (USA) makes no difference to her standing as the current Womens TTR World Nr 1 enjoys an unshakeable lead, due to six TTR results, from her nearest rival TTR World Nr 2, Cheryl Maas (NED). Maas, reigning TTR World Snowboard Tour Champion will maintain her 2nd position with a win at slopestyle, though could well close the gap with Anderson through a halfpipe win later in the week. Both Hanna Beaman (USA) and Torah Bright (AUS) could easily enter the TTR Top Five with a title win, each averaging 3rd & 4th place respectively at their TTR SIX(6)STAR slopestyle results.

The slopestyle results set the tone for the next installment of 1000 TTR Ranking Points available at the Burton European Open 07 Halfpipe as the event continues its Mexican-themed, sombrero snowboard action with mid-week Juniors Jams ending with the awe-inspiring suspense of the mens and womens pipe contest, 25th-27th January, 2007.

For up-to-date results from the Burton European Open 07 check out TTR news during the week to witness the worlds best freestylers aiming to claim the TTR World Snowboard Tour Champion crown.
Burton European Open 07 Current Invited Riders MEN (Slopestyle (SS)/Halfpipe (HP) breakdown)
1/ Antti AUTTI (FIN) FLOW - SS
2/ Chris SOERMAN (SWE) BURTON - SS
3/ Christophe SCHMIDT (GER) SALOMON HP
4/ Christian HALLER (SUI) BURTON - HP
5/ Danny DAVIS (USA) BURTON SS
6/ Frederik KALBERMATTEN (SUI) burton hp
7/ Gian SIMMEN (SUI) SANTACRUZ HP
8/ Gigi RUEF (AUT) BURTON SS
9/ Heikki SORSA (FIN) BURTON SS
10/ Iker FERNANDEZ (SPA) BURTON HP
11/ Janne KORPI (FIN) NITRO SS/HP
12/ Kevin PEARCE (USA) BURTON SS
13/ Markku Koski (FIN) QUIKSILVER SS/HP
14/ Marko GRILC (SLO) BURTON SS
15/ Markus KELLER (SUI) NITRO SS/HP
16/ Mason AGUIRRE (USA) BURTON - SS
17/ Mathieu CREPEL (FRA) ROSSIGNOL SS
18/ Mikkel BANG (NOR) BURTON SS
19/ Peetu PIIROINEN (FIN) BURTON SS/HP
20/ Risto MATTILA (FIN) FLOW SS
21/ Sami SAARENPAA (FIN) BURTON SS
22/ Shaun WHITE (USA) BURTON SS
23/ Torstein HORGMO (NOR) ROME SS/HP
24/ Travis RICE (USA) LIBTECH SS
25/ Vinzenz LUEPS (GER) SCOTT HP
Burton European Open 07 Current Invited Riders Women (Slopestyle (SS)/Halfpipe (HP) breakdown)
1/ Cheryl MAAS (NED) VOLCOM SS/HP
2/ Claudia FLIRI (AUT) VOELKL SS
3/ Hana BEAMAN (USA) RIDE SS
4/ Jenny JONES (GBR) SALOMON SS
5/ Natasza ZUREK (CAN) BURTON SS
6/ Silvia MITTERMUELLER (GER) SANTA CRUZ SS
7/ Torah BRIGHT (AUS) SALOMON SS
8/ Sina CANDRIAN (SUI) BURTON SS
9/ Ellery HOLLINGSWORTH (USA) BURTON HP
10/ Meri PELTONEN (FIN) BURTON SS
11/ Lesley MCKENNA (GBR) ROXY HP