BEO7 slopestyle qualification kicks off
Sun 21 January 07
Saturday saw the slopestyle qualification which saw Brit riders Tyler Chorlton and James Thorne make it through to the semis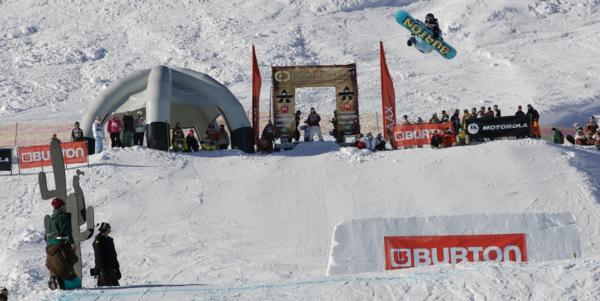 The Burton European Open got underway today in Laax, Switzerland with the mens slopestyle pre-qualification competition. Under sunny skies and springtime temperatures, 120 riders from all over the world competed for 40 spots in tomorrows mens slopestyle semi-finals where they will compete against invited slopestyle superstars like Shaun White (USA), Travis Rice (USA), Antti Autti (FIN) and Mason Aguirre (USA).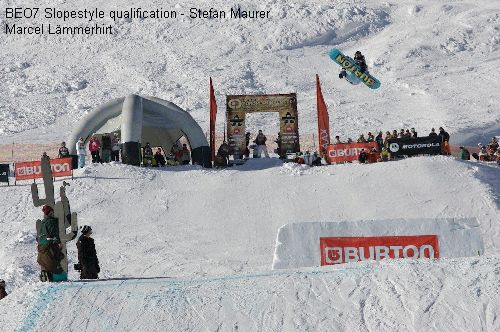 Below is a complete list of male riders advancing to the BEO slopestyle semifinals:
From Heat 1:                                        From Heat 2:
Ulrik Badertscher, NOR

             1. Ville Uotila, FIN

Henning Marthinsen, NOR

         2. Reto Kestenholz, SUI

Matevz Pristavec, SLO

              3. Benedikt Nadig, SUI

Antti-Juhani Piirainen, FIN

         4. Sergey Tarasov, RUS

Jonas Carlson, SWE

                 5. Matti Kinnunen, FIN

Reinhard Rieser, AUT

                6. Pekka Ruokanen, FIN

Tyler Chorlton, GBR

                  7. Ben Watts, USA

Kim-Rune Hansen, NOR

            8. Fredrik Austbö, NOR

Stephan Maurer, SUI

                 9. Johann Baisamy, FRA

James Thorne, GBR

                  10. Miikka Hast, FIN

Even Brekke, NOR

                    11. Jah Daniel Harris, NZE

Werner Stock, AUT

                   12. Victor De le Rue, FRA

Simon Gruber, ITA

                    13. Alessandro Boyens, GER

Cyrill Eidam, SUI

                      14. Iouri Podladtchikov, RUS

Bobby Witty, USA

                    15. Mathieu Gerome, FRA

Joose Viikuna, FIN

                    16. Christophe Reynders, BEL

Nick Brown, NZE
Marc Swoboda, AUT
Domen Bizjak, SLO
Christian Weber, SUI
Paal Soerensen, NOR
Julien Haricot, FRA
Rudi Kröll, AUT
Thomas Franc, SUI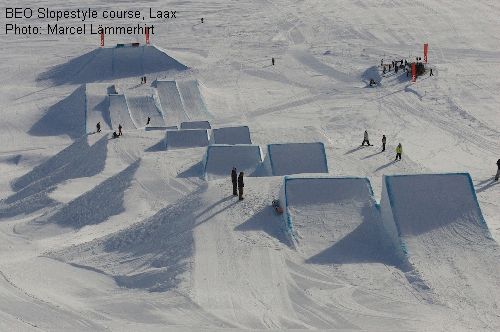 Next Story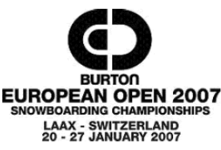 Tue 23 January 07, Laax, Switzerland
High winds and poor light up on the Vorab Glacier meant that the finals for the slopestyle have been unfortunately cancelled. The halfpipe comp is still on, and based lower down the mountain will hopefully ensure it runs.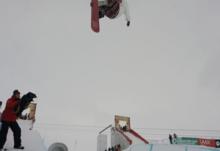 Wed 24 January 07, Laax, Switzerland
Its gromit time at the Burton Open, but these guys show the future is not just bright but full on blinding.
Wed 24 January 07, Davos, Switzerland
Only a few days before the world economic forum kicks off in Davos and going green is on the agenda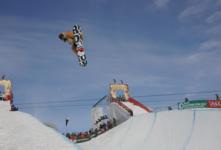 Thu 25 January 07, Laax, Switzerland
The clouds have cleared for the halfpipe qualifiers
Fri 26 January 07, Hochzeiger, Austria
To Much Sun Melts Snow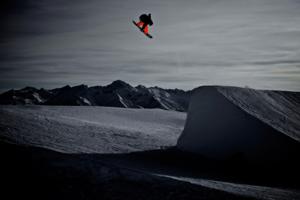 "Excellent snowsure resort with a good long season. The slopes are great for freestylers and freeriders alike, as well as suiting beginners. The resort can be slack at opening lifts and the off-piste gets tracked out within hours of a dump."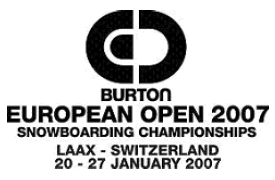 20-27 January 07
Its back at Laax, Switzerland again and drawing more than 500 riders to compete in halfpipe and slopestyle disciplines
Mens Big-Air Leaderboard
1. Parrot, Maxence (766.67)
2. Hansen, Kim Rune (705.01)
3. Tonteri, Roope (655.50)
4. Kotsenburg, Sage (640.91)
5. Truchon, Antoine (602.84)
Mens Halfpipe Leaderboard
1. Gold, Taylor (882.80)
2. Bretz, Greg (858.51)
3. Hiraoka, Taku (847.16)
4. Hirano, Ayumu (833.53)
5. Vito, Louie (713.54)
Mens Slopestyle Leaderboard
1. McMorris, Mark (968.03)
2. Sandbech, Stale (916.33)
3. Parrot, Maxence (905.33)
4. Thorgren, Sven (802.90)
5. Kotsenburg, Sage (785.45)
Womens Halfpipe Leaderboard
1. Clark, Kelly (1000.00)
2. Kim, Chloe (867.90)
3. Bleiler, Gretchen (851.23)
4. Farrington, Kaitlyn (796.03)
5. Gold, Arielle (773.27)
Womens Slopestyle Leaderboard
1. Anderson, Jamie (966.67)
2. Rukajärvi, Enni (883.43)
3. Norendal, Silje (826.98)
4. Derungs, Isabel (816.28)
5. Pancochova, Sarka (805.10)
Advertisement