Female juniors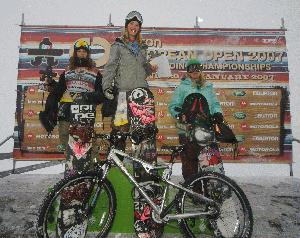 On the 23rd January, it was the female juniors who set foot in the huge Laax halfpipe. Fifteen-year-old French snowboarder Mirabelle Thovex won the days Burton European Open girls halfpipe contest. Despite extremely challenging weather conditions which included low visibility and a snowy halfpipe, Mirabelle put together two strong runs that included back-to-back 5s and a 7, giving her an impressive lead over the 14 other girls who competed in the contest.

Im very happy to win my first Burton European Open halfpipe competition, said Mirabelle. Even though the weather was tough, the pipe was in a really great shape and fun to ride.

Swiss rider Emilie Aubry took second place in the competition followed by German rider Melanie Hofmeister in third place.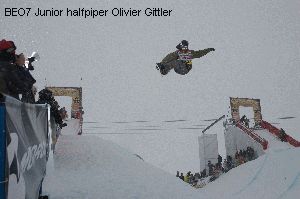 Mirabelle will take home a Land Rover bicycle, and all three girls received Motorola cell phones & goodie bags.

Halfpipe Results:

Girls Junior:
1. Thovex Mirabelle, FRA
2. Emilie Aubry, SUI
3. Melanie Hofmeister, GER

Girls Youth:
1. Silje Norendal, NOR
Male Juniors
On the 24th January it was the turn of the junior chaps to hit the pipe.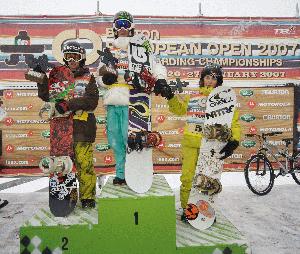 Sixteen-year-old French snowboarder Olivier Gittler won todays Burton European Open junior halfpipe competition followed by 15-year-old Japanese rider Eisuke Sugiura in second place and sixteen-year-old Italian rider Manuel Pietropoli in third place. Thirteen-year-old American rider Ben Watts won the 14-and-under age group in todays BEO junior halfpipe.

The level of riding was very high, so Im very happy that I won, said Olivier. I think the most important thing is just to have fun at competitions and try to stay relaxed, and thats what I did. Oliviers winning run included a frontside air, a backside 9, a frontside 9, McTwist, Japan air and a frontside tailgrab.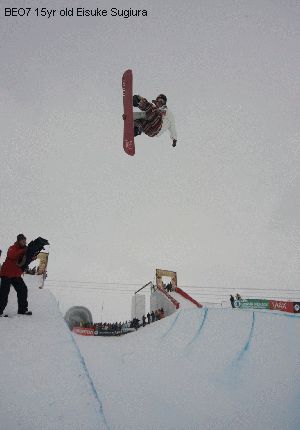 Japanese rider Eisuke Sugiura impressed the crowd and the judges with his incredible amplitude and style. His second-place run started out with a huge frontside air, which was by far the highest air of the day. His run also included a McTwist, a frontside 7 and a Cab 3 melon grab. The BEO is the biggest competition where Ive been on the podium, so Im very stoked to come in second place, said Eisuke. I tried to go really high, especially with my McTwist, which is my favorite trick. I really love Laax and Switzerland and cant wait to compete at the Nippon Open and the US Open.

Manuel Pietropoli from Italy also earned a spot on the podium with a frontside 9 melon grab, a method air, frontside 7, Cab 7 and a frontside 5 melon grab. I couldve done better if I landed my frontside 9 in my last run, but Im happy with my third place, said Manuel.

Ben Watts was very happy about winning the 14-and-under age group and had this to say, The pipe here at the BEO was the best Ive ever ridden. Laax is my favorite place to visit, and Im stoked I won the junior contest.

Olivier will take home a Land Rover bicycle, and all six boys who placed on the podium received Motorola cell phones & goodie bags.