The possibility of recreation in beautiful alpine surroundings, healthy air and a healing climate have attracted guests from around the globe to Davos for over 100 years. Therefore, protecting the climate in the alpine metropolis is a special concern. As one of the worlds first tourist regions, Davos has committed itself to meeting the targets of the Kyoto Protocol.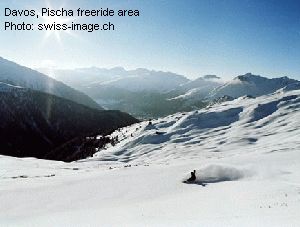 As one of the biggest health and holiday resorts in the Alps, the impact of increasing global warming would have a particularly severe impact on Davos. No wonder, then, that the community has a special interest in getting proactively involved in protecting the climate by first putting its own house in order. The Landschaft Davos community has set itself the goal of slashing annual climate-harming CO2 emissions amounting to over 100,000 tonnes by 15 percent by the year 2014.
Promoting renewable energy
In a study conducted by the Swiss Federal Institute for Snow and Avalanche Research (SLF) in Davos, which was co-financed by the community, it was found that 75 percent of the CO2 emissions in Davos are generated by heating systems. Road traffic accounts for 17 percent or 19,000 tonnes a year. In addition, the study shows that Davos is astonishingly dependent upon fossil fuels (crude oil, diesel, petrol/gasoline and natural gas). They cover 70 percent of total energy consumption. With the exception of hydropower, renewable energy carriers are being utilised only scantly in Davos. Wood, geothermal energy, solar energy and biomass account for a meagre 2.5 percent of total energy usage.
As a result, the community will focus its efforts on four areas promotion of energy efficiency, utilisation of renewable energies and the regional wood cycle and information of the population about their own possibilities of contributing to climate protection.
First Energy Town in the Grisons
The study, which was presented in early December 2006, is the continuation of years of efforts of Davos to utilise energy efficiently. As the first community in the Grisons, Davos won the Energy Town (Energiestadt) label or European Energy Award® in November 2001. For this purpose, the community had to implement a catalogue of energy-related measures in the areas of regional and development planning, communal buildings and installations, supply and disposal, mobility etc. and to subject itself to regular quality checks. This has been done and is still being done under difficult conditions, for Davos with its population of 13,000 must provide an infrastructure for at least 30,000 to 40,000 inhabitants.
As part of this process, various projects were implemented and twelve community-owned properties were rehabilitated with regard to their energy usage over the past years. Moreover, taking advantage of a low-interest loan, the community also promoted the construction of a private biogas plant. Together with the electric power company of Davos (Elektrizitätswerk Davos, EWD AG), the community draws a total of 200,000 kilowatt-hours of power generated by biogas from this plant, making it a major client of this private power producer. The community covers about one or two percent of the total energy requirement of its properties by eco-power (biogas and solar power), acting as an important role model.
Efforts also in the field of public transport
An illustrative example of the success achieved so far is the increased public transport services offered. Today, the number of passengers carried every year has risen to 5.5 million. The public transport company in Davos (Verkehrsbetrieb Davos, VBD) not only offers an outstanding public transport network, but also operates vehicles which are all equipped with catalytic converters and particle filters. Since November 2005, the twelve VBD buses as well as six vehicles operated by partner companies apply this exhaust gas treatment system (Continuously Regenerating Trap or CRT System). The system slashes harmful emissions SO2 by about 98 percent and fine particles, hydrocarbons and carbon monoxide by more than 90 percent. In all, the VBD fleet including the vehicles of partner companies use such vehicles on 95 percent of the total annual kilometres travelled, discharging about 5 tonnes less harmful emissions into the atmosphere every year.