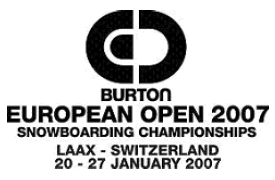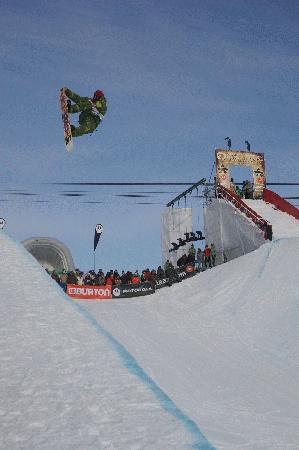 The Burton European Open completed men's and women's halfpipe qualifications today with 100 men and 46 women competing. 31 men from 13 different countries and 16 women from 10 different countries earned spots in tomorrow's halfpipe semifinals.

After several days of heavy snow, high winds and low visibility, the clouds finally lifted and revealed partly sunny skies and a perfectly shaped pipe for today's event up on Crap Sogn Gion. Tomorrow's weather promises to be even better for the men's and women's halfpipe semifinals.

In the men's qualifiers, many of the top riders from yesterday's boys halfpipe finals also made it into top qualifying spots for the men's semifinal halfpipe event. Oliver Gittler, who won yesterday's boys junior halfpipe, qualified third in his heat for the men's semifinals. Second place boys' junior halfpipe rider Eisuke Sugiura from Japan also earned a spot in the men's halfpipe semifinals.

Sarah Conrad from Canada took the top qualifying spot in the first heat of the women's competition. And, French rider Mirabelle Thovex, who won the BEO girls' halfpipe competition on Tuesday, also qualified first in today's women's event.
Men's halfpipe riders advancing to semifinals:
Session I:
Heat 1:
1. Mitchell Brown, NZE
2. Xaver Hoffmann, GER
3. Olivier Gittler, FRA
4. Martin Cernik, CZE
5. Thomas Ruegg, SUI
6. Henning Marthinsen, SWE
7. Davide Buvoli, SUI
Heat 2:
1. Sergio Berger, SUI
2. Markus Malin, FIN
3. Dolf Van der Wal, NED
4. Ben Kilner, GBR
5. Stephan Maurer, SUI
6. Dan Wakeham, GBR
7. Therry Brunner, SUI
8. Gianluca Buvoli, SUI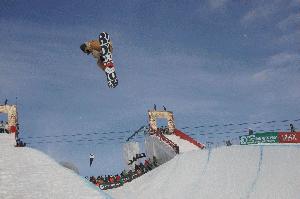 Session II:
Heat 1:
1. Crispin Lipscomb, CAN
2. Kim-Rune Hansen, NOR
3. Tore Holvik, NOR
4. Eisuke Sugiura, JPN
5. Dani Costandache, SUI
6. Philipp Strauss, GER
7. Valerian Ducourtil, FRA
8. Stefano Munari, ITA
Heat 2:
1. Roger Kleivdal, NOR
2. Daniel Friberg, SUI
3. Andrew Burton, AUS
4. Miikka Hast, FIN
5. Rolf Feldmann, SUI
6. Jah Daniel Harris, NZE
7. Gian-Luca Cavigelli, SUI
8. Samuel Cullum, GBR
Women's halfpipe riders advancing to semifinals:
Heat 1:
1. Sarah Conrad, CAN
2. Anne Sophie Pellissier, FRA
3. Andrea Schuler, SUI
4. Anna Carl, SUI
5. Akiko Miwa, JPN
6. Conny Bleicher, GER
7. Emilie Aubry, SUI
8. Thea Stenshagen, NOR
Heat 2:
1. Mirabelle Thovex, FRA
2. Kendall Brown, NZE
3. Holly Crawford, AUS
4. Lisa Wiik, NOR
5. Helene Nadig, SUI
6. Meri Peltonen, FIN
7. Nadja Purtschert, SUI
8. Rita Comi, ITA