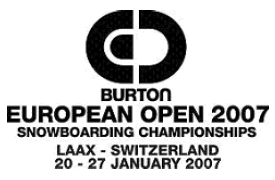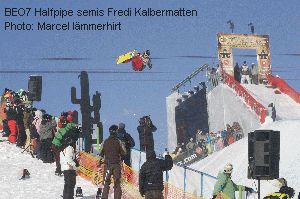 The Burton European Open halfpipe semifinals wrapped up today up on Crap Sogn Gion with eight women from eight different nations and 16 men from nine different nations advancing to tomorrow's halfpipe finals. Australian Holly Crawford placed first in today's women's semifinals and Markus Malin from Finland took the top semifinals spot for the men.

Holly put together a very solid run that included a frontside 5 stalefish, which the judges considered to be the highest and most stylish in the women's halfpipe semifinals. Her top scoring run also included a method air, stalefish indy, frontside seven and a Cab 360. Meri Peltonen (FIN) and Sarah Conrad (CAN) took second and third place respectively. Ellery Hollingsworth (USA), who is the current leader of the Burton Global Open Series standings, took fourth place in the semifinals.

In the men's semifinals, 41 men competed for 16 spots in the halfpipe finals. Markus Malin (FIN) took the top spot in the semifinals after his second run, which included a backside air, frontside 720 tailgrab, Cab 10, tailgrab to fakie and a Cab 900. Switzerland's Markus Keller took a close second place in the semifinals with his first run, which included a massive frontside alley oop mute grab, frontside 720, Cab 720, frontside 900 and a backside 720. Norwegian rider Roger Kleivdal qualified for the finals in third place.

Conditions at the halfpipe on Crap Sogn Gion were perfect today with sunny skies, new snow and cold temperatures resulting in a fast, perfectly shaped pipe. Tomorrow, riders from around the world can enjoy a live webcast of the halfpipe finals at www.Lat34.com/beo from 12h00 – 14h15 local Swiss time.

Men's halfpipe riders advancing to the finals:
1. Markus Malin, FIN
2. Markus Keller, SUI
3. Roger Kleivdal, NOR
4. Mitchell Brown, NZE
5. Luke Wynen, USA
6. Janne Korpi, FIN
7. Christian Haller, SUI
8. Peetu Piiroinen, FIN
9. Rolf Feldmann, SUI
10. Iouri Podladtchikov, RUS
11. Crispin Lipscomp, CAN
12. Stephan Maurer, SUI
13. Gian Simmen, SUI
14. Xavier Hoffmann, GER
15. Sergio Berger, SUI
16. Henning Marthinsen, NOR
Women's halfpipe riders advancing to the finals:
1. Holly Crawford, AUS
2. Meri Peltonen, FIN
3. Sarah Conrad, CAN
4. Ellery Hollingsworth, USA
5. Andrea Schuler, SUI
6. Juliane Bray, NZE
7. Anne Sophie Pellissier, FRA
8. Lisa Wiik, NOR