Massive amplitude and a near perfect run assured Australian Torah Bright the gold in the Snowboarding SuperPipe Women's competition. The Winter X Games 10 silver medalist snagged the top place finish from local favorite Gretchen Bleiler in impressive fashion.
Coming off a fifth place finish at the Torino Olympics and three pipe wins including the World SuperPipe Championships, Bright continued her winning ways to show the world she truly belongs with the best. "You always enter a competition wanting to have your best runs and this was one of my best contest runs ever," Bright said. "And all the Aussie fans out there were incredible."
A large and energetic crowd still cheered for their favorite two-time Winter X Games SuperPipe champion and local hometown hero, Gretchen Bleiler, as she nailed a clean first run, but crashed in her second handing over the gold to Bright.
"I'm not totally happy with the way I rode, but people were throwing down tonight and the level was just insane," said
Bleiler. "I overcame a lot mentally because I didn't nail any of my runs in practice, so to come out on my first run and land that first big trick was huge."
The bronze went to 17-year-old South Lake Tahoe, California native Elena Hight. In her fourth X Games competition, the young rising star threw an incredible backside 900 to nudge 2006 Olympic gold medalist Hannah Teter from the podium. "It still blows my mind that I'm standing at the top of the pipe with all my heroes."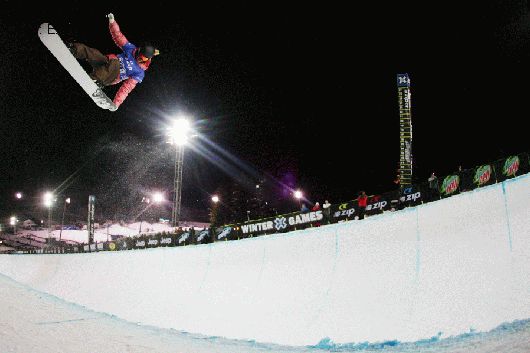 Photo: Torah Bright, steezy air to fakie Credit: EXPN.com