The ski season is still in full swing, but at the top Colorado resort of Winter Park work has already started on spectacular improvements for next winter with a new $8million (approx £4.15m) detachable six-pack chairlift that will be North America's highest.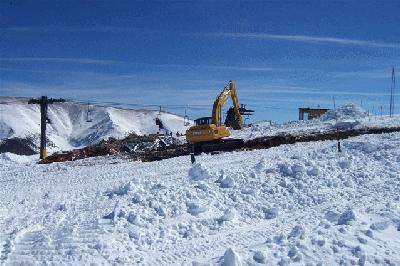 The Leitner-Poma state-of-the-art lift will carry skiers and boarders to 12,060ft, serving the wonderful Parsenn Bowl. To be called the Panoramic Express, construction of the new lift will rely heavily on the use of helicopters to minimise ground-level disturbance.

Last summer, Winter Park added the new Eagle Wind chairlift as part of parent company Intrawest's commitment to spend $50million (approx £26m) on improvements over ten years. The Panoramic Express is the next step in the exciting changes going on at Winter Park.

Starting the work this early, with minimal inconvenience to skiers, means the new lift will be ready for the start of next season – and moving the necessary equipment over ground still heavily snow-covered also protects the sensitive tundra vegetation, another consideration for the environmentally-conscious resort.

Winter Park's new avalanche training area, Beacon Basin, is now open, giving skiers and boarders the perfect terrain to learn about avalanches and what to do if they should ever become involved in one.

Located near the end of Primrose Trail, Beacon Basin has eight buried avalanche transceivers, any or all of which can be activated by the ski patrol for training purposes. Skiers and boarders are challenged to isolate a signal with their own beacon and locate the buried transceiver with the provided avalanche probe.

The training area is open from 9am to 3pm and guests are urged to practise rescue skills as often as they like. Free instruction is available between noon and 1.30pm at the Mary Jane Patrol Headquarters, at the top of the Super Gauge Express chairlift. "Beacon Basin is an excellent way to learn or master avalanche search and rescue skills in a safe and controlled environment," said patrol director Geoff Anders.