Ischgl's season-closing Top of the Mountain concert will this year showcase international Italian star Zucchero.

Although not so well known in Britain, Zucchero is a big star in Italy, Germany and Austria and is sure to attract big crowds to the snowy concert arena, which is in a natural amphitheatre up in the mountains above the Tirolean resort.

Beyonce was at one stage tipped to do the concert, but plans changed after she extended her successful Australian tour.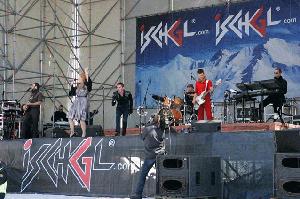 The Top of the Mountain event will come three weeks after a fabulous Easter Monday concert on the slopes featuring pop sensation the Scissor Sisters, best known for the massive hit I Don't Feel Like Dancin'. More than 20,000 skiers and boarders flocked to the 2320m high arena at Idalp for the free concert, with fans dancing in ski boots to the American band.

Zucchero has recently recorded with Eric Clapton, Macy Gray and Sheryl Crow and is riding high in the European download charts. His gig, scheduled to start at 1.30pm on Sunday 29 April, is free for all with a lift pass (needed anyway to get to Idalp).

The last day of Ischgl's ski season is Tuesday 1 May and will conclude a five month long season of excellent snow conditions for skiers and boarders.

Zucchero and the Scissor Sisters follow a distinguished parade of top stars to appear at the Austrian resort, including Sir Elton John, Tina Turner, Sting, Lionel Richie, Jon Bon Jovi, Ronan Keating, The Corrs, Pink, Peter Gabriel, the Pussycat Dolls, Alanis Morissette, Bob Dylan and Enrique Iglesias.