It was only a few seasons ago that Gap1328 were running summer camps on the Zugspitze Glacier, Germany's highest mountain and part of the Garmisch-Partenkirchen ski area. Every year the camps started earlier until they were tacked on to the end of the season as part of the spring finale, and now a huge reflective coat covers terrain park on the glacier for the summer months.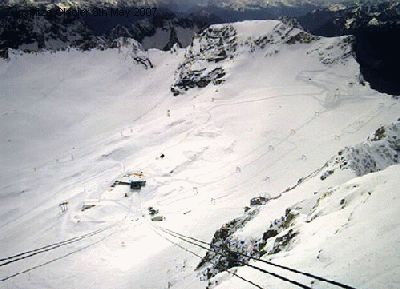 For the last 14 years the cover has been used to try and deflect the heat from the sun and preserve the glacier, this year it has grown by 50%.
Whether this is attempt to try and halt the decline of the glacier for genuine environmental reasons, which was 80 metres thick in 1910 and now only 45m, or just a way of preserving the economic income the glacier provides is not really up for debate.
Frank Huber, manager of ski operations on the glacier said "It would be more than a shame if the glacier disappears," but that the driving force behind the changes are more economic, "The Zugspitze lives from tourism, our goal is to keep the skiing operations going and that's why we're trying to protect the snow"
As a result they have had to stop digging out halfpipes on the glacier, "We realised if we kept digging the half-pipes, the glacier might be gone in 10 rather than 20 years" Frank said.