A new extended programme of residential female-specific snowboard and ski camps at Snow Park NZ this season will give girls of all ages more opportunity to practice and perfect skills learnt from some of the country's top women snowboarders and free skiers.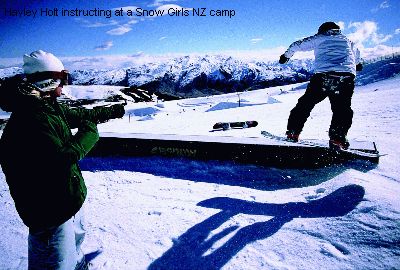 The two or four-day Snow Girls NZ programmes aim to encourage girls into the world of freestyle snowboarding and skiing, an opportunity to learn, progress and ride together in a comfortable, fun and supportive environment.

For the first time this year, two types of residential camps are on offer for the girls. The four-day 'All Park Shredder' covers all the park features of halfpipe, Slopestyle and quarterpipe. The first camp (in July) is designed for beginner and intermediates and later in the season (September) the same camp is targeted at intermediate or advanced riders looking to increase their performance and progression. The two-day 'Slopestyle' camp (end July) focuses on boxes, rails and jumps for all skill levels.

Some of the best international and Kiwi female riders will coach and encourage the girls to advance under their guidance. The coaches have been past and current Olympians, World Cup and X-Game champions including Fiona Duncan, Abby Lockhart, Hayley Holt, Tori Beattie, Pip Simmonds and Jenny Jones.

The camps include four hours of coaching per day, video analysis, evening activities, all meals and accommodation at The Woolshed. For relaxation and recuperation the camp's evening training sessions include yoga, nutrition and stretching, and enjoying the après ski atmosphere on the mountain. The number of participants is limited to 30 girls per camp and the ratio of coach to camper never exceeds one to six.

Weekly learning sessions throughout the season are also available for local or visiting riders with the Billabong Snow Girls NZ Tuesdays. Held every Tuesday, these sessions are aimed at learning and developing park skills on an ongoing basis. Each session includes four hours of coaching, lunch, product giveaways and feedback session.

To culminate the winter season the girls get to shine at the Snow Girls NZ Jam (23 September) – performing park skills learned throughout the season. A fun event open to females of any age.

Snow Park NZ Manager Sam Lee said all-female camps create more comfortable learning arenas for girls. "By providing a more relaxed environment, the girls advance at a faster rate, feel more at ease to give things a go and have heaps of fun along the way. The camps appeal to riders just starting out in the freestyle world as well as proficient female riders looking to go to the next level."

The Billabong Snow Girls Tuesday will start on 2 July and run throughout the season. Sessions run from 9am to 4pm.