A new Doppelmayr chairlift was purchased last fall for the North Country area of
Crystal Mountain
. The North Country is a large area of terrain along the north side of Crystal's designated permit boundary. The lift will provide access to approximately 1,000 acres and increase Crystal's 1,300 acres of lift serviced ski terrain by 77% to 2,300 acres.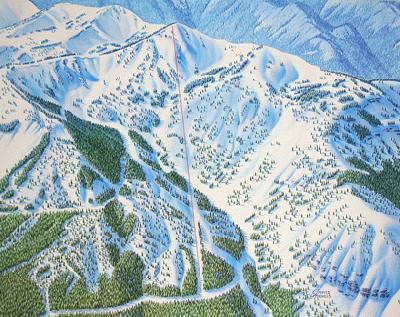 The name for the new chairlift is "Northway." It will deposit skiers at the top of Northway Peak after a ride of just under 10 minutes. From there, skiers face an amazing choice of skiing Snorting Elk Bowl, Northway Bowl, Paradise Bowl and Bruce's Bowl, following Right Angle Ridge to a variety of expert glades and chutes or heading farther north to drop into places like Morning Glory Bowl and Brand X. Several new trails are to be constructed that will feed into the bottom of the new lift.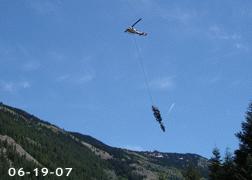 Tree cutting began on Monday, June 18th in the North Country area. The use of a helicopter will be implemented to remove the downed trees to help keep the impact on the environment at a minimum. Trees will be cut and removed to clear paths for the new trails, chairlift towers and line. The cement footings for the lift towers will be poured as soon as the snow is completely melted. Chairlift towers will be flown in and set into the footings by helicopter in late-August to early-September.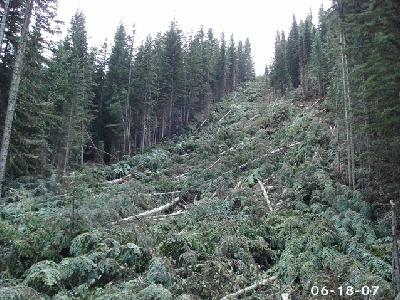 The lift equipment itself is unusual in these days of high capacity, high speed detachable lifts. Northway is a double chairlift that will move along at a faster-than-standard rate of 550 feet per minute but will limit skier capacity in the new terrain to 1,200 people per hour. This will increase the existing 19,110 people per hour lift capacity to 20,310. "It's about the skiing." said Crystal Mountain General Manager John Kircher. "I'm sure people appreciate the big high capacity lifts that we have on the front side of Crystal. We have a job to do handling the crowds here but we all see how fast the snow gets tracked out. The new lift in the North Country is designed to provide access but keep the snow quality higher." The new lift service will also serve to spread skier traffic out and keep skiers from funneling back through the base area.