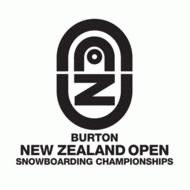 Day two of the fifth Burton NZ Open and the action turned to the Slopestyle course for the men's and women's qualifiers. Over 20 women and 80 men took on Snow Park NZ's challenging course that was geared towards top end riding. Some were daunted by the size of the features but others really pushed their limits, stepping up and trying jumps they hadn't attempted before.

As with yesterday's halfpipe competition, there was a wide variety of riding in the men's event, but the top 15 places were fiercely fought for. "The top riders exhibited incredible amounts of control on the rails and they were going ballistic on the jumps," said assistant head judge, Ste'en Webster. "They've been practicing them for a few days now and are all tuned into them. Seven's and nine's were standard on the jumps and when these guys meet the pro riders in tomorrow's semi-finals the riding is going to be pretty amazing."

Webster was also impressed with the level of the girls' riding with the top three really attacking the rails and boosting off the jumps.

Sixteen-year-old Valerie Reynolds of Idaho, USA is competing in her first Burton Global Open Series event and was thrilled to be one of just eight women to make it through to tomorrow's semi-finals in third place.

"It was quite windy and the light was a bit flat but the snow was great. There were some chicks spinning fives but they'd fall on landing – that's the key to success, don't fall," she said. "With the pros coming out tomorrow, it's going to be really fun competing with them. It's totally different experience here in New Zealand compared to the US. The park's really nice with heaps of variety of jumps and rails and there are so many good people here!"

The Burton NZ Open continues tomorrow (Friday) with the Slopestyle semi-finals and finals, with the women's semi-finals starting at 9.15am. Tomorrow night sees the Invitational Quarterpipe Jam under floodlights and accompanied by tunes from top Kiwi DJs. Spectators will watch for free from a grandstand built of snow – over 2,000 attended last year's event.