BEO Airlines the theme for the European Open
Thu 06 September 07
Gone are the pinball styling of the last few Burton European Opens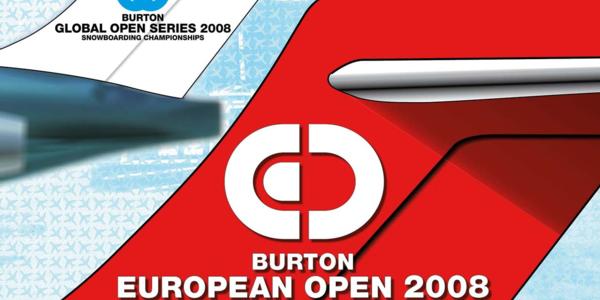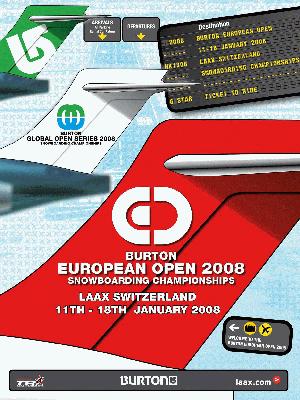 From January 11 – 18, 2008 international top riders will fly into the Swiss top resort LAAX. This year's theme will be "BEO Airlines". For 500 riders this means to take off in the disciplines Halfpipe and Slopestyle.
Pipe and park will wait perfectly tuned on Crap Sogn Gion at 2200 m altitude, to challenge pros as much as amateur-pilots and to promote progressive snowboarding. First Class organisation is guaranteed at the TTR 6 Star Event due to the experienced partners Burton Snowboards and LAAX. No matter if you fly Economy or Charter, riders from all over the world will land at the Burton European Open 2008, from all contest series and all age groups. The best of the best will be rewarded in the finals of the men and women with a prize-money of US$ 125.000. All participants will earn international ranking-points for the destinations TTR (Ticket to Ride World Tour) and BGOS (Burton Global Open Series).

No matter if World Champion, rookie or fan – all passengers can expect not only sports highlights at the BEO 2008, but also a variety of side events at the landing strips mountain "Crap Sogn Gion" and valley "Riders Palace". You can book packages in time for Europe's biggest Snowboard event at www.laax.com.

The BEO 2008 crew wishes you a pleasant flight into the winter 2007/08!
[From a press release]
Next Story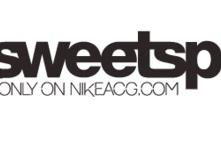 Wed 12 September 07
Nike ACG athletes have travelled across the globe to document their own Sweetspots with some of the most respected film production teams in the world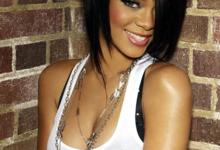 Mon 17 September 07, Ischgl, Austria
Here's hoping you'll only need your umbrella to stop the snow, but that Caribbean stunner will be performing on 1st December as part of the season opening weekend in the Austrian resort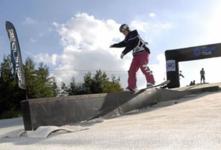 Tue 18 September 07
The Animal British Slopestyle Championships kick started the new British Snow Tour on the 15th September with the UK's top snowboarders shredding it up on Chatham's Ski Slope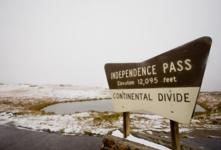 Tue 18 September 07, Aspen, USA
First snow of a new season always gets me excited, so here's a few shots on the approach to Aspen.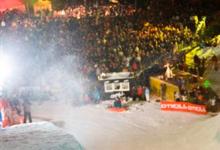 Thu 20 September 07, Davos, Switzerland
With valuable ranking points at stake and an overall prize purse of US$ 100,000, the world's best freestyle snowboarders will once again converge on the Jakobshorn to put on an awe-inspiring display of Superpipe and Quarterpipe jam-format madness.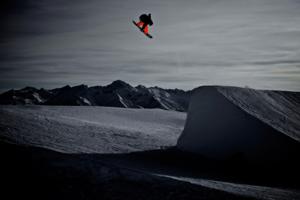 "Excellent snowsure resort with a good long season. The slopes are great for freestylers and freeriders alike, as well as suiting beginners. The resort can be slack at opening lifts and the off-piste gets tracked out within hours of a dump."
11-18 January 08
Still in Laax and still a 6*TTR event, guaranteeing the top riders will be out to impress
Mens Big-Air Leaderboard
1. Parrot, Maxence (766.67)
2. Hansen, Kim Rune (705.01)
3. Tonteri, Roope (655.50)
4. Kotsenburg, Sage (640.91)
5. Truchon, Antoine (602.84)
Mens Halfpipe Leaderboard
1. Gold, Taylor (882.80)
2. Bretz, Greg (858.51)
3. Hiraoka, Taku (847.16)
4. Hirano, Ayumu (833.53)
5. Vito, Louie (713.54)
Mens Slopestyle Leaderboard
1. McMorris, Mark (968.03)
2. Sandbech, Stale (916.33)
3. Parrot, Maxence (905.33)
4. Thorgren, Sven (802.90)
5. Kotsenburg, Sage (785.45)
Womens Halfpipe Leaderboard
1. Clark, Kelly (1000.00)
2. Kim, Chloe (867.90)
3. Bleiler, Gretchen (851.23)
4. Farrington, Kaitlyn (796.03)
5. Gold, Arielle (773.27)
Womens Slopestyle Leaderboard
1. Anderson, Jamie (966.67)
2. Rukajärvi, Enni (883.43)
3. Norendal, Silje (826.98)
4. Derungs, Isabel (816.28)
5. Pancochova, Sarka (805.10)
Advertisement