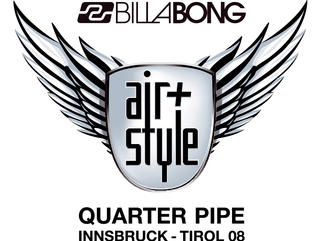 SCROLL DOWN TO THE BOTTOM OF THE PAGE TO VIEW THE EVENT LIVE FROM THIS WEBSITE
Rockin Bands. Amazing Riders. One colossal quarterpipe. The Swatch TTR FIVE(5)STAR Billabong Air & Style Quarterpipe 2008 is going to set a new precedent for competitive riding. On February 2nd 2008, the Air & Style returns to the Bergisel Stadium in Innsbruck, Austria and will host some of the best and most progressive riders around, ready to battle it out for Quarterpipe glory and climb the TTR Rankings. With 850 TTR ranking points going to the winner, and a 50 000 Euro prize purse, Innsbruck is about to witness the biggest and most stylish airs at a level that will blow minds, with the potential for a new World Record height, currently held by Terje Haakonsen at 9.8m.
The 07/08 Tour season is progressing rapidly, and things are coming down to the wire as riders are now posting all six required results needed to finish high in the rankings and have a shot at becoming the Swatch TTR Tour Champion. Risto Mattila from Finland has already posted six very strong results, securing an unassailable lead going into the Billabong Air & Style. Only his highest six results are counted toward his point total, therefore, in order to increase his lead in preparation for the rest of the tour, Risto will have to finish first or second in Innsbruck. Given his record of Quarterpipe and Halfpipe finishes this season alone, a top podium result for Risto certainly isnt out of the question.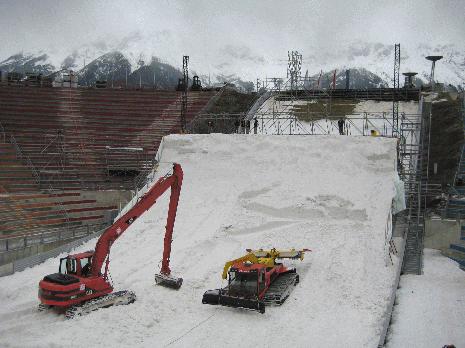 Further down in the rankings, well see a few battles play out at the FIVE(5)STAR Billabong Air & Style Quarterpipe Session. TTR World No. 2 is up for grabs between Andy Finch (USA), Kevin Pearce (USA), and Peetu Piiroinen (FIN), who have all recently won Quarterpipe and Halfpipe Titles and are all equally capable of winning the Billabong Air & Style Title.
The race for TTR Champion continues as other riders bring all they have to Innsbruck. Swiss rider Iouri Podladtchikov will be looking for a Top 5 finish at the Billabong Air & Style to move from World No. 6 into the Swatch TTR Top 5. The TTR Top 10 will also see some drastic changes as Mason Aguirre (USA), Markus Keller (SUI), Marku Koski (FIN), Antti Autti (FIN) and Scotty Lago (USA) will fight with their stylish big air moves for a spot in the Swatch TTR Top 10.
Arthur Longo from France will also be looking to make the Top 15 as local Austrian rider Werner Stock makes a huge leap from his current place at World No. 86 into the TTR Top 50. Steve Gruber from Austria has also been invited to compete, posting his second TTR result of the 07/08 season as German rider Alex Schmaltz posts his first.
On top of all the Tour suspense and big air quarterpipe action, Queens of the Stone Age are set to rock the stadium filled to the brim with an 12 000 strong audience.
New Riders List For Billabong Air & Style Quarterpipe 2008:
Kevin Pearce

USA

Burton

Pat Moore

USA

Forum

Andy Finch

USA

Rip Curl, Palmer

Antti Autti

FIN

Flow, Billabong

Risto Mattila

FIN

Flow, Billabong

Scotty Lago

USA

Flow, Billabong

Manuel Pietropoli

ITA

Burton

Shayne Posposil

USA

Billabong

Markus Keller

SUI

Nitro

Arthur Longo

FRA

APO

Iouri Podladtchikov

SUI

Santa Cruz

Mason Aguirre

USA

Burton

Kim Rune Hansen

NOR

Burton

Peetu Piiroinen

FIN

Burton

Daisuke Murakami

JPN

K2

Colin Frei

SUI

K2

Tore Holvik

NOR

Bataleon

Markku Koski

FIN

Quiksilver

Werner Stock

AUT

Salomon

Frederik Austbo

NOR

Quiksilver

Alex Schmaltz

GER

Voelkl

Stefano Munari

ITA

ONeill

Steve Gruber

AUT

Adidas, Aesthetiker
Points Allocation FOUR(4)STAR
1st 850, 2nd 800.95, 3rd 765, 4th 737.85, 5th 716.05
2007/2008 - Swatch TTR World Snowboard Tour Ranking as of:29/1/08
| | | | | |
| --- | --- | --- | --- | --- |
| Rank | Name | Sponsors | Nation | Score |
| 1 | Mattila, Risto | Billabong Flow Giro, Kostum | FIN | (870.95) |
| 2 | Finch, Andy | Palmer, Ripcurl | USA | (801.61) |
| 3 | Pearce, Kevin | Burton Adio, Frends, Oakley, Volcom | USA | (800.98) |
| 4 | Guldemond, Chas | DC Electric | USA | (743.60) |
| 5 | Horgmo, Torstein | DC Oakley | NOR | (743.04) |
| 6 | Podladtchikov, Iouri | Red Bull, Santa Cruz, Spy, Volcom | SUI | (716.23) |
| 7 | Piiroinen, Peetu | Burton Anon, Battery | FIN | (697.47) |
| 8 | Aguirre, Mason | Burton Globe, Nixon, Smith | USA | (670.31) |
| 9 | Bang, Mikkel | Burton Analog, DVS, Red | NOR | (606.10) |
| 10 | Humphreys, Tim | Flow Bolle, Sessions | USA | (602.87) |
Watch it live right here