The Bergisel Stadium in Innsbruck, Austria was packed with screaming fans as riders reached incredible heights and laid down some of the sickest tricks ever seen on a Quarterpipe at the Billabong Air & Style. Kevin Pearce (USA) took the Swatch TTR FIVE(5)STAR Title, his second Air & Style win of the season, and moved into World No. 2 on the rankings, right behind Risto Mattila (FIN) who still holds on to his TTR Tour lead.
Pearce was more than happy with his evenings accomplishments: Its just amazing to come here and get another Air & Style win. I totally wasnt expecting it. The TTR events have been working out well so its awesome that Im still up there. Im stoked!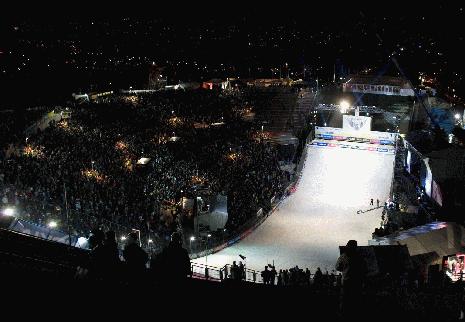 Air & Style 2008 at the Bergisel Stadium
Photo: Oliver Kurzemann
The atmosphere was full of intensity, as a roaring crowd pushed the riders to lay it all on the line, resulting in some hard hits on the coping, but also some huge airs with even bigger style. Pearce stomped a smooth BS 5 Alley-oop, rising to just over 7m, landing him on the top of the podium. Scotty Lago (USA) took second on his 3rd hit pumping up the crowd with a huge FS 7 Alley-oop as Peetu Piiroinen (FIN) rounded out the Top 3 with a massive BS 5 that pushed him into Swatch TTR World No. 3.
Terje Haakonsens record Quarterpipe height of 9.8m was almost broken, had Jack Mitrani (USA) landed after being the first rider to look down from 10.2 m. Mitrani did however take home the Swatch Highest Air Title of the night after successfully landing an 8.2 m BS Air and is now TTR World No. 30.
Other big changes in the TTR rankings include Andy Finch (USA) moving down to World No. 4 as Swiss rider Markus Keller moves into the Top Ten at World No. 9. Antti Auttis (FIN) sick Inverted 7 and 4th place finish at the Air & Style moves him up to World No. 11 with Scotty Lago close behind in the No. 12th position. Arthur Longo (FRA) stomped huge BS Airs that placed him 15th and earned him World No. 16 as Kim Rune Hansen (NOR) sits just below at World No. 17.
With the FIVE(5)STAR Billabong Air & Style now over, the Tour moves on in full force, with the FOUR(4)STAR Quiksilver Natural Selection taking place this weekend, and the SIX(6)STAR Arctic Challenge on the horizon. Risto Mattila, who is still Tour leader was a little disappointed with his run, but has the Burton US Open in his crosshairs: Im still super stoked to be World No. 1. I didnt do too well in this competition and I was hoping for a better result. But Im still going to do the Burton US Open cause its the biggest competition. I need really good results so Im going to really push it there.