Zoe Gillings, Britain's number one Snowboardcross athlete produced her best result of the season today, Friday 15th February, when she finished in 4th place at the FIS World Cup Snowboardcross competition in Sungwoo, Korea.
Zoe qualified into the finals in ninth position, and won her first heat convincingly leaving World Number one, Lyndsay Jacobellis trailing behind. The line up in the second heat was particularly tough as it included three of the Worlds top racers, each with World Cup victories under their belts. An extremely focused Zoe didn't let this faze her and produced yet another great result finishing second and securing her place in the final.

In the final it was a head-to-head dual down the technical and demanding course with each rider battling hard for position. Unfortunately being placed in the slowest of the narrow lanes, Zoe was unable to overtake and finished in 4th place, narrowly missing out on a podium position. This is Zoe's best result in three and a half years and she has now competed in two finals in the past four weeks. Zoe commented after the race, "Its great to be back reaching the finals again, a World cup win is firmly in my sights."
Results
1st – Maelle Ricker (CAN)
2nd – Lindsey Jacobellis (USA)
3rd – Mellie Francon (SUI)
4th – Zoe Gillings, (UK)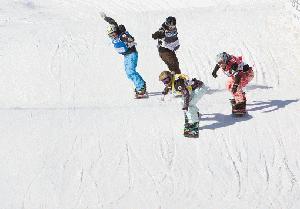 British World Cup Snowboardcross team member, James Foster also competed in Korea and finished in a respectable 47th place out of 80 competitors. Both Zoe and James will be heading to Japan from the 21st – 22nd February to compete in the sixth FIS World Cup event of the season.