The British Freestyle and World Cup Halfpipe Teams continued to achieve top results over the weekend when they competed in two Europa Cup Halfpipe events in Innsbruck, Austria and the sixth World Cup Halfpipe event in Korea.
The British Freestyle Team
Dom Harington achieved his best result of the season on Friday 15th February when he finished in second place in the Europa Cup Halfpipe competition in Innsbruck, Austria. Dom linked together a solid and faultless run which included; a frontside 900 to McTwist, huge air to fakie, hakon flip 720, alley oop and heelside rodeo to finish. The following day, Saturday 16th February, Dom added a bronze to his already impressive medal collection in the second Europa Cup Halfpipe event of the weekend. Fellow team mates Sam Cullum, Jack Shackelton and Kate Foster were also on top form and each achieved a top ten placing, which is an amazing result as the competition line up included over 60 of the World's top snowboarders.
Friday 15th February
Dom Harington - 2nd place
Sam Cullum – 6th place
Jack Shackelton – 12th place
Kate Foster – 7th place
Saturday 16th February
Dom Harrington - 3rd place
Sam Cullum – 8th place
Jack Shackelton – 10th place
Kate Foster – 11th place

The British World Cup Halfpipe Team
Dan Wakeham, Ben Kilner and Angus Leith competed in the sixth World Cup Halfpipe event in Sungwoo, Korea on Saturday 16th February and continued to prove they are world class by achieving top results:
Dan Wakeham - 24th place
Ben Kilner – 31st place
Angus Leith – 35th place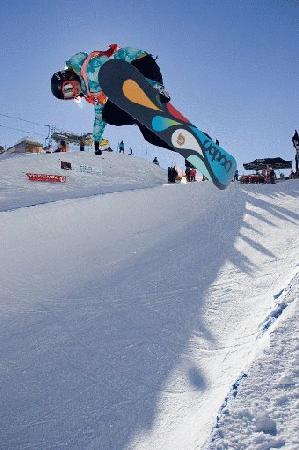 Kate Foster, Europa Cup Innsbruck
Photo: SSGB